70 Years of Independence Celebrated on Calton Hill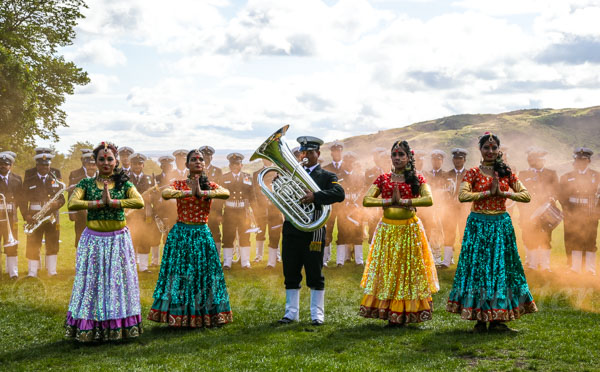 Over 100 Indian performers gathered in Edinburgh for the Festivals this year including the Indian Naval Band and Teamwork Arts' Bollywood Extravaganza, Aditya Roy, Yuki Ellias, Shilpika Bordoloi,and spokesperson Sharupa Dutta.
And, as part of the UK-India Year of Culture 2017, India@Edinburgh brought to the Edinburgh Festival Fringe and the Royal Edinburgh Military Tattoo a slice of the country's iconic cultural traditions as well as its contemporary performing arts scene, including Bollywood dancers, theatre, martial arts and comedy. Of all the seasons and events programmed by Teamwork Arts for the Year of Culture, India@Edinburgh had the distinction of happening on and around the anniversary day of the independence of India on the 15th of August, which makes this season a truly special celebration of India's rich and unique history.
To mark this occasion a small performance and a family picture with all the Indian performers who are part of this season, including the legendary Indian Naval Band and a magnificent group of Bollywood style dancers took place on Calton Hill.
Sanjoy Roy, Managing Director of Teamwork Arts, said "2017 is a year of great significance for the arts world – 70 years of the Edinburgh festivals and 70 years since the world's largest democracy, India, attained independence from the British Crown. To commemorate the second of these anniversaries, which falls on August 15, an ambitious cultural exchange programme is being hosted in both countries to celebrate diversity, youth and innovation throughout 2017."