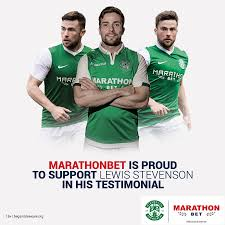 Both sets of players will wear black armbands during Sunday's Lewis Stevenson testimonial match between Hibs and Sunderland at Easter Road in tribute to young football fan Bradley Lowery who sadly passed away this week following a brave fight against neuroblastoma, a rare type of cancer.
A minute's applause will be held in the sixth minute of the game.
Bradley was a regular mascot at the Stadium of Light and his brave fight against neuroblastoma touched the lives of many people.
In addition, the Stevenson family have asked that part of the money raised will go to the Bradley Lowrie fund.
In a statement on the family's Facebook page, his mother Gemma Lowery said: "He was our little superhero and put the biggest fight up but he was needed else where.
"There are no words to describe how heart broken we are. Thank you everyone for all your support and kind words. Sleep tight baby boy and fly high with them angels."
Sunderland issued a statement on the club website: "Our thoughts and prayers are with Bradley's parents, Gemma and Carl, his brother Kieran and their family and friends. We extend our love and support to them, now and always.
"Bradley captured the hearts and minds of everyone at our club with his indomitable spirit, tremendous courage and beautiful smile, which could light up even the darkest of rooms. Despite battling neuroblastoma for much of his all too short life, he demonstrated a bravery and fortitude beyond his years that humbled us all. He was truly an inspiration.
"His heart-warming friendship with players and staff alike epitomised the impact this wonderful little boy had on everyone he met. He had a special relationship with Jermain Defoe and their feelings for each other were evident for all to see. Jermain, naturally, is heartbroken.
"Bradley's story not only touched our club and our fans, but also the wider football community. Football can be a powerful force for good and our sport came together to embrace Bradley's fight in a unique way. We would like to extend our sincere thanks to every club and fan who supported Bradley in recent months and showed such warmth and kindness to the Lowery's – we are truly grateful.
"Throughout his illness, Bradley's family and friends have worked tirelessly to increase awareness of this brutal disease. Their fundraising campaign, initially for Bradley's treatment and subsequently to raise money for the foundation that will bear his name, will ensure that other youngsters and parents facing the devastation of life-threatening illnesses will have the help and support they so desperately need.
"Bradley's passing will have a profound effect on everyone and we understand that people will want to reach out to support the Lowery's. We would kindly ask on their behalf however, that that they are given the privacy they need as a family at this most unimaginably difficult time. We will continue to support them in whatever way we can."
Half of the money raised from the testimonial match will go to two chosen charities close to Lewis's heart, Cardiac Risk in the Young (CRY) and Leith Links.
The Cardiac Risk in the Young (CRY) charity is one close to Lewis's heart as it helps identifying young people at risk from cardiac failure in elite athletes to members of the general public.
It was the charity that the Hibs development side endorsed following the sudden and unexpected death of young Hibs player David Paul (aged 18) who died in his sleep on the 22nd December 2013.
The charity also offers support and help for families affected by this condition. 
Leith Links 4 Kids, was set up in June 2013 with the aim of helping children AND supporting Hibs, by collecting donations so additional Kicks for Kids season tickets could be purchased. This charity helps children who may otherwise not be able to attend football games at Easter Road, the reasons could be because of the cost involved, they have no-one to go to the game with, their families are not 'into' football and many other reasons. No matter what, this charity allows kids to support Hibs and encourage the next generation of Hibs supporters.