Explosive Osama Bin Laden Show Returns To Edinburgh Fresh From US Tour
"Tonight, ladies and gentlemen,
I am going to show you how to change the world"
BIN LADEN: THE ONE MAN SHOW returns to the Edinburgh Fringe Festival from 2nd-28th August at C (Venue 34).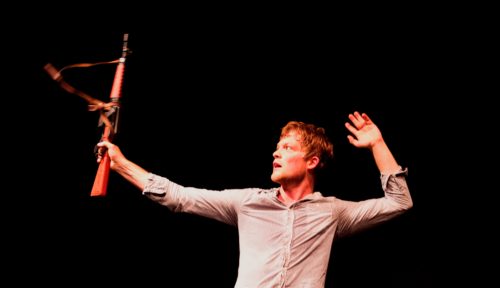 The world's most notorious terrorist tells his story in BIN LADEN: THE ONE MAN SHOW a remarkable, provocative and multi-award-winning production from Knaïve Theatre. The twist? Bin Laden is 28 years old, White British and charming as cream teas in summer. After a critically acclaimed and highly successful American Tour, this 'must-see' production returns to the Edinburgh Festival Fringe, where it originally premiered, from 2nd-28th August before beginning a UK tour that includes The Royal Exchange Theatre, The Sherman and The New Wolsey.
With populist rhetoric playing an ever-increasing role in Western politics, Knaïve Theatre's Tyrrell Jones and Sam Redway pry apart what it is that draws us to follow demagogues, asking if the world's most wanted terrorist might have been more persuasive than we ever imagined. They ask audiences to re-examine their own information and prejudices from a naïve perspective, just as the company have.
The award-winning hit of the fringes in San Diego and Hollywood, Bin Laden returned home to perform a sell-out show at the Royal Exchange Theatre in Manchester. Knaïve Theatre are now Supported Artists at the Exchange and have redeveloped the show with the help of the theatre's creative team ready for a return to Edinburgh before the company's first national tour.
Having provoked important and timely debate surrounding Middle East conflict and the War On Terror internationally, they will now bring that discussion to a national audience. Though they expected this story would become less relevant, current global tensions and recent events have galvanised an ever-increasing appetite for the debate they inspire.
Bin Laden was made in 2013 on a shoestring by Tyrrell Jones and Sam Redway. After previews in Buxton and London, it opened at Edinburgh and the show was awarded the first Broadway Bobby of 2013. It was in The List's Top 5 Theatre Shows To See and received a host of first-rate reviews. Quickly, the show started selling out, and before long it was a hit. With the success of Edinburgh 2013 behind them, Tyrrell and Sam undertook formal training (Birkbeck MFA in Directing and RADA MA Theatre Lab respectively). They then redeveloped and toured the show, this time around USA with Arts Council AIDF funding.