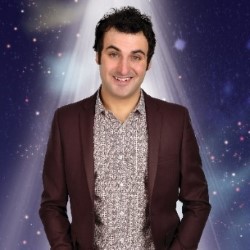 It is Temperance heaven with Quiz inquisitor Patrick Monhan as he teases toddlers and so-called grown-ups clever clogs alike with his infectious interrogations.
The fantastically fun family quiz is back after last year's triumphant silliness and mayhem.
Pub Quiz for Kids with Patrick Monahan will have family members of all ages in fits of giggles.
Hosted by one of the UK's busiest and most popular stand-ups, the quiz was a smash hit at last year's Fringe thanks to its mix of quiz conundrums and silly games that involve everyone.
One or two new ideas have been added but the format is as fast, furious and funny as before.
"There are plenty of kids' shows where adults can have a snooze. You can't here. There's a touch of the old Generation Game about it. People love it," says Patrick.
Story knowledge tests the teams' knowledge of traditional tales and modern classics from the Grimm Tales to Harry Potter and the Gruffalo. A cunning music clip round will find out who knows their Peppa Pig from their Disney favourites. Then into the mix comes the mystery round where Patrick knows the questions but only one person knows the answer – and that person is in the audience. All that and the infamous dance-off and quickfire rounds that'll leave you dizzy.
Patrick Monahan has made countless TV appearances and won ITV's Show Me the Funny series. In 2015 he was named as Britain's Hardest Working Comedian for playing more venues in the year than anyone else.
Story Pocket Theatre has fast become a firm favourite with families on the Fringe. The company won the Primary Times Children's Choice Award at the Fringe in 2014 and a ThreeWeeks Editors' Choice Award in 2015.
Gilded Balloon Venue 14 (Billiard Room) | 2 – 27 August (not 14& 20) | 12 noon