World's top climbers descend on Edinburgh for Climbing World Cup and Paraclimbing Cup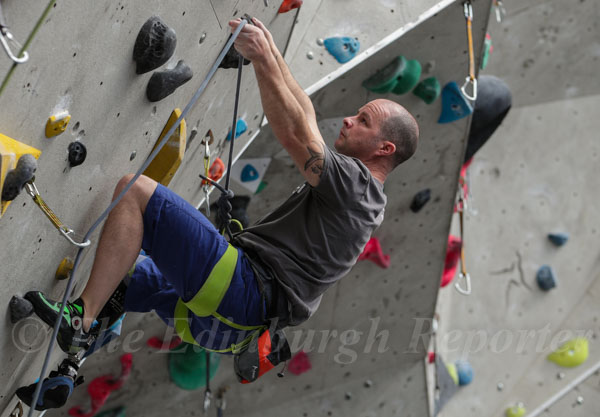 The world's best climbers will descend on the Scottish capital this autumn as the International Federation of Sport Climbing (IFSC) World Cup and Paraclimbing Cup comes to the Edinburgh International Climbing Arena:Ratho from 23 -24 September.
Organised by EICA:Ratho, in conjunction with the British Mountaineering Council, this is the first time the IFSC World Cup has been held in Edinburgh since 2003 and the first time a Paraclimbing Cup has been held in Scotland, with over 1,200 spectators expected over the two days.
Paraclimber, Keith Lynch, a member of Climb Scotland and GB Development Squad, who will be competing in the Paraclimbing Cup AL2 (lower limb amputee) category, kicked off the launch at Ratho, as the tickets for the event went on sale today. He was joined by Natalie Berry, a member of the Senior GB Lead Climbing Team.
Keith Lynch (top) who climbs at Ratho explained. "The British climbing scene is very exciting at the moment and with its acceptance as an Olympic sport at Tokyo 2020, it's clear it's developing at a rapid rate.
"Having a paraclimbing element happening alongside the IFSC World Cup can only create more awareness for this lesser known element of the sport and hopefully encourage more people with disabilities to get involved. For many climbers, this aspect will almost be unknown and to non-climbers, the thought is baffling as climbing without a disability seems hard enough. Hopefully we will show that the impossible is possible, no matter what the disability is."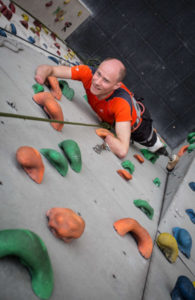 Up to 200 of the world's top climbers will compete in two disciplines – Lead and Speed climbing – in the World Cup while in the Paraclimbing Cup, up to 50 climbers will take part in one of 10 climbing categories.
Also present was Jamie Andrew and Senior GB Lead Climber, Natalie Berry. Jamie survived a quadruple amputation after severe frostbite sustained while climbing in the Alps. The seven days endured at altitude in 90mph winds and -30C temperatures also cost Jamie's climbing partner, Jamie Fisher, his life. Andrew is now a motivational speaker and works on a variety of leadership programmes throughout the year.
EICA:Ratho is one of only eight competition speed walls in the world and the only climbing centre in the UK suitable for hosting an IFSC World Cup Lead and Speed Climbing competition and Paraclimbing Cup.
The events are being funded by Edinburgh Leisure, City of Edinburgh Council and is being supported by EventScotland, part of VisitScotland's Events Directorate.
Neill Busby, senior climbing instructor at Edinburgh International Climbing Centre and one of the route-setters for the IFSC Climbing World Cup and Paraclimbing Cup said: "As Europe's biggest climbing centre, with more routes than any other walls in the UK, it'll be a great opportunity to showcase the wonderful facilities at Ratho and the sport of climbing, ahead of its debut at Tokyo 2020.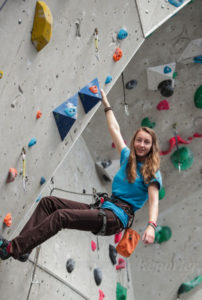 "Ratho has some of the highest quality route-setters in Europe, a team of international standard setters who regularly set for international competitions."
Stuart Turner, Head of EventScotland, said: "Scotland is the perfect stage for events and we are delighted to be supporting the return of international climbing to Edinburgh. This is an exciting time for the sport and Ratho is the ideal platform for people to see climbing first-hand ahead of its debut at the 2020 Tokyo Olympic Games.
"The combination of both world-class facilities and climbers promises an adrenaline packed weekend of action so I recommend you get in early and secure your tickets for the event."
Edinburgh's Lord Provost, Frank Ross, said: "Edinburgh boasts some of the very best climbing facilities and these Championships will see competitors and spectators travel from across the globe.
"Hosting these events is a major coup for the Capital and for Scotland. It will generate valuable profile for the city and the venue and we look forward to welcoming the world to EICA: Ratho.
"This is Europe's largest indoor climbing arena and it is right on our doorstep. I hope this event encourages citizens from all age groups and abilities to try a visit to our very own climbers' paradise."
Junior and adult tickets, day and weekend passes are now available to buy from £6.50 to £25 from: http://www.eica-ratho.co.uk/climbing-world-cup
Parking at Ratho will be limited to 300 cars per day and there will be a £10 charge for parking on-site. Free parking will be available off-site with a shuttle bus transfer.
Image of Jamie Andrew (from above) courtesy of Euan Ryan (Finalcrux)
Further images from the press call can be viewed here