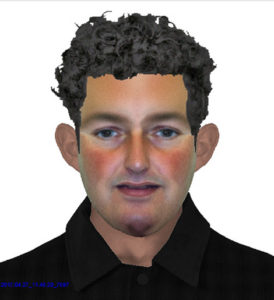 Police in Livingston are continuing to investigate a serious sexual assault of a 32-year-old female jogger in Armadale.
The incident happened around 9pm on Tuesday 25th April on a footpath, which runs parallel to the A801, near to the racetrack.
Detectives are keen to trace the man pictured in this e-fit image. He is described as a white man of around 40-years-of-age. He has large ears and dark or black wavy hair. He was wearing a black woollen jacket, black jeans and royal blue navy trainers. He is believed to speak with a Scottish accent.
Police are urgently looking to trace this man and would appeal to any members of the public who may recognise him to contact them as soon as possible.
Detective Superintendent Pat Campbell from Lothians and Scottish Borders CID said: "Following new information, we are now in a position to release an e-fit image of a male that we wish to trace in connection with out investigations into the serious sexual assault of a woman near to Armadale on the evening of Tuesday, 25th April.
"I am appealing to the communities of West Lothian and the public in general for suggestions as to the identity of the man shown in the image as a matter of urgency.
"Whilst we understand that this crime has caused a great deal of concern amongst the local community, I would like to reassure everyone that our officers are doing absolutely everything they can to investigate this crime.
"I would also like to advise the public to take care when walking at night in the Livingston area and to report any suspicious behaviour that they may have noticed.
"We are completely focussed on solving this crime and I cannot stress enough the importance of members of the public coming forward with any information that could potentially assist with our inquiries.
"If you were in the surrounding area on the evening of Tuesday 25th April, please cast your mind back and think about whether you may have seen a man of the above description or anything out of the ordinary.
"If you have any information at all, no matter how significant you think it might be, let us determine that as it could prove vital to our investigation."
Those with information are asked to contact Livingston's Public Protection Unit on 101, quoting incident number 0003 of April 26, or anonymously through Crimestoppers on 0800 555 111.