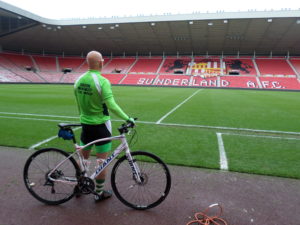 Sunderland based Hibs' fan Hugh Cockburn has been carrying out some last minute training as he prepares for a very poignant commemorative cycle ride between Easter Road and Hampden Park after one of the most significant of weekends, in memory of Hibernian Supporters Club St Patrick's Branch Member Shaun McKinley.
Hugh's cycle run will take place on Monday 22 May; one year on from the day Shaun watched his beloved Hibees lift the Scottish Cup.
Shaun sadly passed away after a brave fight with cancer on 31 Dec 2016 and it is therefore fitting that Hugh should mark Shaun's memory with this charitable sponsored cycle, not just Easter Rd to Hampden, but also the return leg back from Hampden to Easter Rd the following day.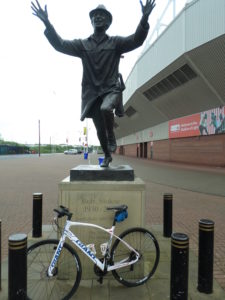 In preparation for the cycle ride, he recently visited both The Stadium of Light, home of Sunderland FC and St James' Park, home of Newcastle United FC, meeting legendry managers Bob Stokoe and Sir Bobby Robson.
Hugh told the Edinburgh Reporter: " Three  of my biggest passions, away from family, are Hibs, cycling and my membership of the St.Pats Branch. When I heard Shaun had cancer I was devastated for him and his lovely family. Since contacting 'Big G' (Gordon McKinley, Shaun's father) to enquire about joining the Branch, I have been met with nothing but kindness, support and wonderful friendship from mainly Gordon but also all people associated with the Branch. I consider many of them as close friends. The branch epitomises the Hibs theme of 'Family'.
"I attended Shaun's funeral and the turnout was amazing and I realised then that I wanted to do something to 'honour' him and the McKinley family. It has been in the back of my mind to attempt to cycle to all the senior Football grounds in Scotland but the logistics and 'time away' from family is a concern. I decided that it is possible to do in stages and my first stage is Easter Road to Hampden and back via, Hearts, Livingston, Airdrie, Clyde, Rangers, Celtic, Partick, Hamilton, Motherwell, and Edinburgh City. I am hoping to do another stage sometime late summer, possibly Fife clubs. All stages will be in memory of Shaun, as the banner says, "Shaun McKinley, live forever"
The cycle is a sponsored event in aid of cancer, so if you can, please give any contribution by visiting the St Patrick's Branch donation page and mark your donation Hugh's Shaun McKinley cancer appeal.
Donations can also be made on Shaun's Just Giving page.
Monday 22 May
Depart Easter Road 9am- visit_Livingston FC-Airdrie FC-Partick FC-Clyde FC-Rangers FC-Celtic FC- arrive Hampden
Tuesday 23 May
Depart Hampden-visit-Hamilton FC-Motherwell FC-Hearts FC-arrive Easter Road hopefully mid-afternoon-Train to Newcastle 6:30pm
Three years ago, Hugh took part in a charity bike ride from London to Edinburgh to raise funds for the St Patrick's Branch of the Hibs' Supporters Club's campaign to purchase a fitting memorial to club legend Dan McMichael.
The 444 mile journey began at Tower Bridge on Friday 3 May 2013, and Hugh averaged well over 100 miles per day before arriving in the capital on the following Monday.