It is well known that Edinburgh Airport wants to forge a link with flights to China. Now that seems to be a little closer.
The airport and Beijing Capital International Airport (BCIA) have signed a new partnership agreement to encourage cooperation between them.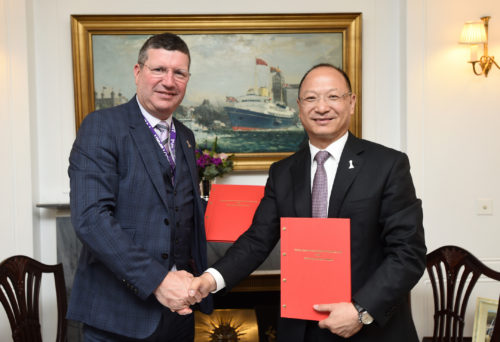 Both of the airports serve their respective national capitals and they have agreed to exchange ideas and information to ensure best practice from the other's experience.
Gordon Dewar visited the Beijing Global Friend Airports CEO Forum last year as a guest of Beijing Airport and that has enabled the relationship to develop into an agreement.
The agreement was signed in Edinburgh with a BCIA team led by President and CEO ZhiLiang Han.
Edinburgh Airport Chief Executive Gordon Dewar said: "We are honoured to welcome colleagues from BCIA to sign this partnership agreement. I believe that the shared understanding that it will create will allow us to be more competitive in the Chinese market and brings the prospect of a direct air link between Scotland and China ever closer.
"The Belt and Road initiative of China is clear and ambitious. Well, we're at the end of that road and want to understand how we can make sure we can play a part.
"BCIA is massive organisation, processing 94.39 million passengers a year. We can learn lots from them.
"Our performance in Edinburgh has made airports across the world sit up and take note and I'm sure that there are areas in which we can offer ideas to Beijing.
"This is an exciting new chapter for our airport and the whole team is looking forward to working together and forging a strong bond."
City of Edinburgh Council Lord Provost, Frank Ross, said:
"This visit will further strengthen the already close relationship Edinburgh enjoys with China.
"Our investment team already has a strong presence through various channels promoting Edinburgh as a quality location for investment throughout China and our many other links include the two pandas Tian Tian and Yang Guang being gifted to Edinburgh by the Chinese Government to horticultural connections dating back over 100 years.
"A strong partnership is also now in place incorporating our work in life sciences through the Memorandum of Understanding signed recently between the University of Edinburgh and the Shenzhen Peoples' hospital and partner Hua-Xia Healthcare on diabetes. And we even have our own Chinese New Year celebrations here in the city, marked this year by a special concert in the Usher Hall."
Photo by © Lesley Martin 2017
e: lesley@lesleymartin.co.uk
t: 07836745264