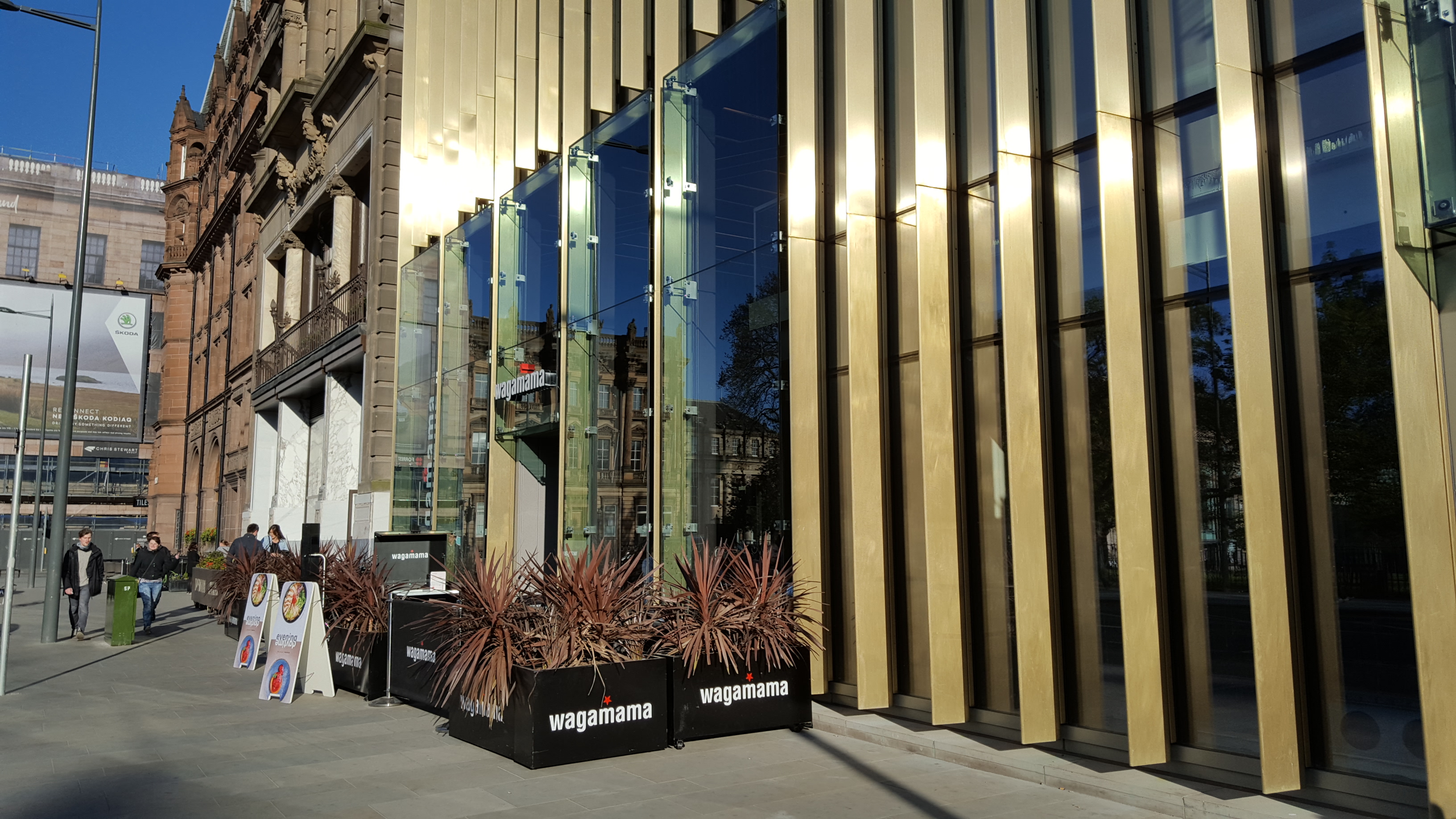 Wagamama, 5 St Andrew Square, Edinburgh EH2 2BD
Open daily 11.00 to 23.00
The light floods into the new Wagamama in St Andrew Square. It is situated minutes from Edinburgh's Waverley Station, in the city's financial district, and in a superb location at the end of George Street which is now a foodie mecca.
It was bustling at 7 o'clock on a Thursday night with a mix of tourists and locals keen to experience the Wagamama phenomenon and to enjoy what the international chain calls 'casual eating'.
Outlets are modelled on the 200-year-old ramen stalls of Japan and the dishes are based around noodles, rice and fresh ingredients.
The décor is stunningly simple and yet stylish with the use of cleverly illuminated mirrors against the naked brick walls particularly effective and the atmosphere is vibrant but you don't feel swamped.
Staff at the 200-plus seat, two-level restaurant endeavour to make you feel special, quite a feat in this busy establishment.
Surprisingly, given the size of the restaurant, which has a superb view of the fashionable square, the noise level is good and the eclectic mix of background music added to the experience.
Ewa was our host. As Wagamama virgins the menu required explanation and she did that with aplomb. We understood what to order and the composition of each dish. No surprises.
The dishes are designed to stand alone however there are a number of sides one can order. We did, on recommendation, of course.
One of the most popular sides is chilli squid, crispy fried squid dusted with shichimi served with a chilli coriander dipping sauce. It has a pleasant kick.
Squid can be a risk. My experience the previous week in another restaurant was, shall we say, not the best.
This version was attractively presented and my first bite into this simple but effective dish was a delight and it proved addictive.
Pam doesn't care for squid but even she was impressed and she had to taste the much talked about hirata steamed buns. She said they were packed with subtle flavours. Once again, presentation was perfect and the taste? Superb.
Our mains arrived minutes later. My chef's special was teriyaki lamb. It comes from the grill and sits on a bed of soba noodles mixed generously with mushrooms, asparagus, kale and mangetout. It also has a pea herb and wasabi dressing. Each flavour came through, and I particularly enjoyed the salty kale.
Pam was attracted by ginger chicken udon, noddles with mangetout, egg, chilli, beansprouts and red onion topped with pickled ginger and coriander. It looked and tasted great.
Of course, this restaurant had an extensive bar boasting crafted beers "selected to compliment the flavours of Asia".
However, it also serves a delicious selection of fresh juices. Tropical – a mix of mango, apple and orange – was so refreshing and clean green – kiwi, avocado and apple – proved a triumph and a perfect accompaniment to the meal.
Ewa brought dessert. The deep fried banana katsu was a winner but it came served with caramel ice cream which, I felt, did not do the banana justice. The sorbet selection is normally my preferred finishing dish and it was superb but one had to try the chocolate cake and ice cream. Delicious.
Wagamama now have several outlets in Scotland and it has not taken long for people to find the St Andrew Square restaurant.
This chain has come a long way since it first opened its doors in London in 1992, and there are now outlets in Ireland, Holland and Australia.
Why are they successful? They deliver and, by the way, don't worry if you don't do chopsticks, there are forks in a tray on the table.
There is also a cookbook. It has a CD and is packed with recipes which appear easy to prepare and ideal for busy people. Enjoy.