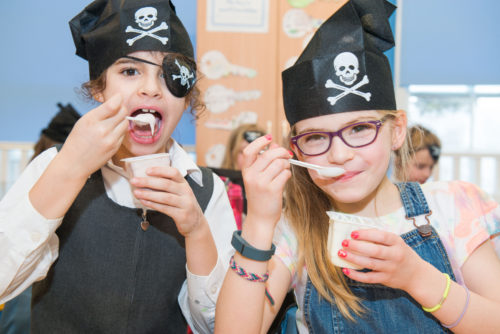 Ahoy! Local pupils win a 'dairy' good Pirate Party from Rowan Glen
Rowan Glen, Scotland's dairy producer, has treated three Edinburgh school pupils to a pirate party for their class as the winners of the company's recent colouring-in competition.
With the competition launched to celebrate Rowan Glen's Treasure Pots yogurt, the parties included a delivery of the Scottish yogurts (which contain no artificial additives and no added refined sugar).
The company says it is a great after-school snack or a tasty breakfast option and the yogurt is made with creamy whole milk and real fruit puree.
Alongside the dairy treats, Rowan Glen surprised each of the pupils' classes with a host of pirate goodies and games – with each winning class also receiving a boxset of books.
The winners of the competition were Benjamin Brett from Stockbridge Primary School; Joshua Costley from Fox Covert Primary School and Blake Hatfield from East Craigs Primary School in Edinburgh. As part of their prize, the winning school children also received a framed copy of their entry.
Donny Gillies, Commercial Manager at Rowan Glen, said: "Congratulations to all the winners of our Rowan Glen colouring competition! We really enjoyed seeing the pupils' creative designs and the effort which each child put in. It was a difficult decision to choose the winners from all the entries – but we are delighted with the final three.
"Rowan Glen is passionate about promoting a nutritious lifestyle, and our Rowan Glen Treasure Pots are an easy way to incorporate dairy into a child's daily diet. We know it's tough for mums and dads to make sure their children are getting a balanced diet. Our Treasure Pots yogurt offers a good source of calcium and vitamin D – and in two delicious flavours.
"A big thanks to all our competition entrants. The colouring-in competition has proved a fun way for us to share the importance of dairy, and to celebrate Scotland's talented little artists."
Rowan Glen Treasure Pots are available in Strawberry & Blueberry and Peach & Apricot flavours in a 4x90g multipack.