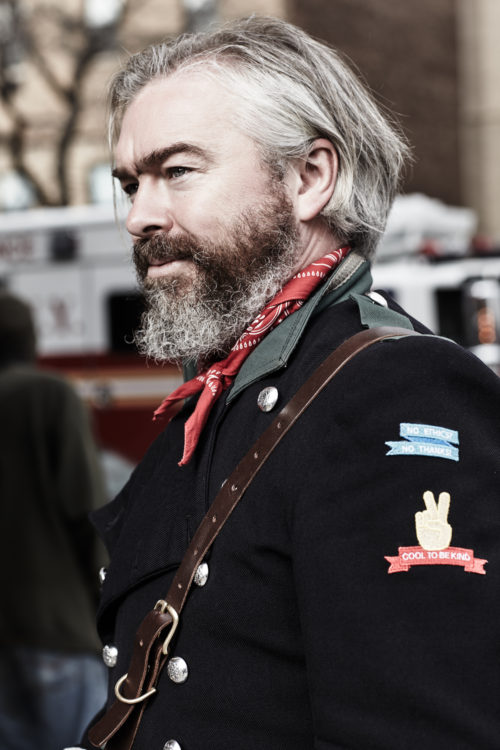 Gordon J Millar is the founder and director of Scot Street Style.  He toured Scotland with the Dalai Lama, took  the World Peace Tartan to New York where he had a chance encounter on 5th Avenue with legendary photographer Bill Cunningham.
He then used his social media expertise and ability to connect people, and launched the transatlantic grassroots movement, Scot Street Style, which "grew organically into the award-winning go-to destination for creative visionaries around the world, #Onward!"
 He explained to us : "As a young man, I was driven by creativity and compassion. My lack of confidence held me back when I left art school in 1992, so I focused on a career in nursing.
"The creative flame inside was never extinguished and, as I grew in confidence with age, I was able to channel this energy into a new form of self expression – social media.
"My peace and environmental groups grew quickly, and I was invited in 2012 to tour Scotland with His Holiness the Dalai Lama, which was life changing.
"After many years looking after people with heart conditions, I am now able to nurture, support and build confidence in a whole new generation of creatives.
"I measure the success of Scot Street Style in smiles, and the chain reaction from the heart of Scotland is spreading organically around the world. I love the fact that when you bring a few creatives together, something entirely new and unpredictable is born.
"These are Universal values which is why the growth of our grassroots community is limitless."
What is the purpose of ScotStreetStyle? To reinvigorate perceptions of Scotland, smash negative stereotypes, and to redefine what it means to be Scottish in the 21st Century. 
Who is it for, what are its aims, and what have been your big successes? Our community is an inclusive, diverse and progressive level playing field, for like-minded creatives and we aim to connect, collaborate, and curate. Our big successes include hosting back to back Gatherings in L.A and New York, crowd funding to self-publish our first book and launching a drink for Heineken. 
Who is involved apart from you? I lead the community and have been fortunate to work with some of the finest creatives across the UK and North America. 
What will you be up to during Tartan Week in New York? Tartan Week is very special to the Scot Street Style story; it's where the movement was born.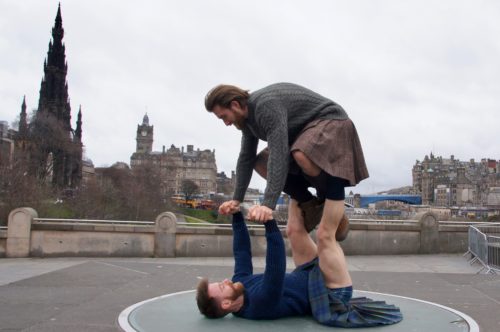 It's incredibly exciting to return with the current Mr Scotland Tristan Cameron-Harper from the BBC's Kilted Yoga video, and to have been invited by Barbour to partner in the go to event of the week at their Manhattan showroom. 
Well we can't let the opportunity to share the video with you pass us by…
What will you be wearing in New York this year? I will be wearing my vintage military jacket and I am immensely proud to reveal my bespoke 21st Century kilt. 
When is the next Gathering and how can people get involved? The next Gathering is in Berlin on Saturday 13th May and we would love to see you there!
Join our Facebook event https://www.facebook.com/events/791483801015771/ or drop me an email g@scotstreetstyle.com