MUMS and daughters are being urged to unite against cancer by entering Cancer Research UK's Race for Life.
The charity is inviting women of all ages, shapes and sizes to take part in Race for Life 5K or the Race for Life 10K at Holyrood Park on Sunday 25 June 2017.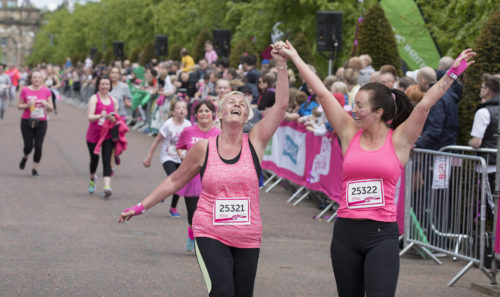 Lisa Adams, Cancer Research UK spokeswoman in Scotland, said: "Race for Life events are non-competitive and participants can choose to walk, jog or run around the course.
"Every step participants take together will help to bring forward the day when all cancers are cured. Every day, 88 people are diagnosed with cancer in Scotland.*
Now, for the first time, men can take part too. Cancer Research UK is introducing a new addition to its events calendar – 'Race for Life Family 5k' – which is being piloted for the first time in Scotland.
Edinburgh has been chosen to host one of ten of the new Race for Life Family 5K events.
The women only 10K at Race for Life starts at 10am and the women only 5K is at noon. At 1pm men, women and children will be able to take part together in the new Family 5K.
Statistics show that one in two people in the UK will be diagnosed with cancer at some stage in their lives, but the good news is more people are surviving the disease now than ever before.
Survival rates have doubled since the early 1970s and Cancer Research UK's work has been at the heart of that progress.
Last year, around 37,612 people took part in Race for Life in Scotland and raised almost £2.5m.
Sign up for Race for Life at raceforlife.org or call 0300 123 0770.