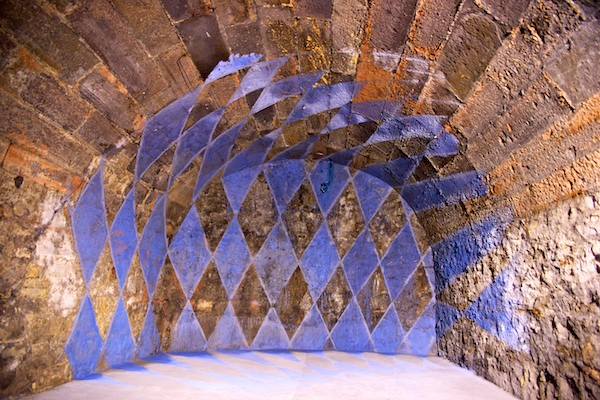 The programme for Hidden Door Festival 2017 has just been announced. This year the festival will be from 26 May till 4 June and there is music, theatre, visual arts, film and spoken word all to delight you.
But perhaps the most delightful thing is that the itinerant festival has a brand new venue at Leith Theatre.
David Martin, Creative Director of Hidden Door, said: "Edinburgh is a city busy with festivals but Hidden Door opens up new spaces for artists and creative talent to bring something new to the mix, celebrating innovation and experimentation in the arts.
"People may think that Edinburgh doesn't have a lot of disused buildings, but they would be amazed at the secrets that are still there to be discovered. This year we have access to one of Edinburgh's best kept secrets – the old Leith Theatre. Many people think they have been to the Leith Theatre, but have in fact only been to the adjoining hall. The actual theatre is breathtaking, and we will fill every nook and cranny, backstage room, under the stage and even the roof space with exciting art installations, theatre shows and film from some of Scotland's most promising new artists.
"And then of course we have the fantastic main auditorium which we will bring to life in a spectacular way – with music from the likes of Hidden Orchestra and new enfant terrible Anna Meredith, plus fantastic new site-specific theatre productions by Grid Iron, Ludens Ensemble and Surge. This will be our most ambitious festival yet, and will reflect a dynamic emerging cultural scene in Scotland."
Irvine Welsh, Leith-born author and patron of the Leith Theatre Trust, said: "It's terrific to see a pop-up counter culture event like Hidden Door collaborating with Leith Theatre to open up the whole of the building, not just the main auditorium but also all the corridors and dressing rooms, bars and secret nooks that make it such a charming and exciting place. Hidden Door gives audiences the chance to glimpse what the future of the theatre could be and show others how versatile and interesting it can be in the meantime through its programme and use of space. I'm excited to see a like-minded organisation coming together with us and bringing Leith Theatre new life."
Yasmin Sulaiman, Editor-in-Chief at The List, said: "We're really chuffed to be working with Hidden Door this year as they bring the amazing Leith Theatre back to life. Anna Meredith – who topped The List Hot 100 in 2016 – is one of the best and most innovative musicians in the UK today, and we're very excited that she'll be headlining the Hidden Door Opening Party with The List. We are also really excited to have Idlewild headline on Saturday night as this is likely to be one of their only UK shows in 2017."
Hashtag: #HiddenDoor  Follow them on social media by clicking the images below.
Here are some of the events confirmed this far.
Music : Friday 26 May
Anna Meredith
Bossy Love
Marnie
BDY_PRTS
Saturday 27 May
Idlewild
Hamish Hawk
Dama Scout
Friday 2 June
Riot Jazz
Soweto Kinch
Gnabgnab
Saturday 3 June
Hidden Orchestra
Sunday 4 June
Tinderbox
Kathryn Joseph
Theatre
Grid Iron, Ludens Ensemble, SURGE Project, Heroes Theatre, Tam Dean Burn, Kathyrn Spence, JJG Dance, Annie Lord, Charlotte Hasting, Clare Marcie, Roanna Davidson, Theatre Sans Accents, Jamie & Lewis Wardrop, Tragic Carpet, It's Complicated and Andrew Simpson
Visual Art
Invited Artists: Sax Shaw, Kristina Chan, Luci Holland, Theresa Moerman, Koralia Maciej, David McDiarmid, Tim Sandys, Dee Marshall D'Eath, Oana Stanciu, Jamie and Lewis Wardrop
Selected Artists: Mark Haddon, Jack McCallum, Camila Cavalcante, Sarah Calmus, Ian Dodds, Joseph Calleja, Sarah Dale, Rachel Turner, Lotte Fisher, Marion Ferguson & Jennifer Wicks, Jill Boualaxai, Jenna Corcoran, Wenna Potter, Rachel Hendry, Rachel McBrinn, Liam McLaughlin, Valerie Reid, Kat Corbet, Mo Kearsley & Martin Elden, Dave House, Miriam Mallalieu, Jennifer Clews and Livvy Turner
Poetry and Spoken Word
Andrew Blair, INTERROBANG?!, Rebecca Sharp & Phillip Jeck, Annie Rutherford & Rebecca Dewald, Rachel Plummer (with Matt Hulse, Matt Rogers & Scottish Clairnet Quartet), FREAK Circus, Sonnet Youth, Loud Poets, Inky FIngers, Shoreline of Infinity and Jenny Lindsay
Film
Contributors including Edinburgh Short Film Festival, UnDependence, Africa in Motion, ECA Animation, Scottish Queer International Film Festival, MSc Film Exhibition and Curation, Kino Klub and Dispatch Feminist Moving Image.