An award-winning artist he was represented by the Ayyam Gallery in Damascus as well as exhibiting his work across the world. When he arrived in Edinburgh he was given a warm welcome at Leith School of Art where he has had space to work while rebuilding his life.
He has now donated three works to a charity auction raising funds for LSA on 24 March at Lyon and Turnbull, Broughton Place, Edinburgh.
Speaking through an interpreter Nihad said: "We have been made so welcome in Edinburgh, and the support I have had from Leith School of Art has been wonderful.
"I wanted to say 'thank you' to everyone, and the best way I can do that is through my art."
Nihad previously created a large work that was shown outside St John's Church, on Princes Street for Refugee Week.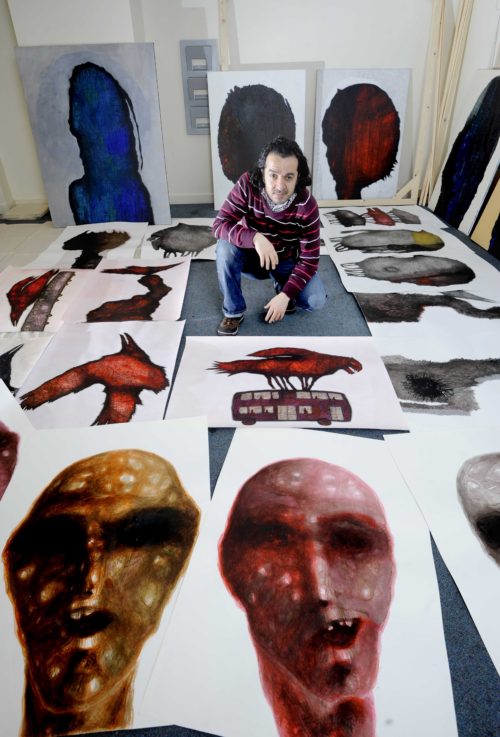 Being in the city has influenced Nihad's art – and he has fallen in love with its great stone buildings, with the exterior of the Balmoral Hotel being a particular favourite.
He is now looking at plans to create an immense 75m long 1.5m tall circular painting depicting the city through his eyes, which he hopes would be shown in a public square.
The auction is an opportunity to purchase work by LSA tutors, alumni and other well-known artists, such as:
John Brown: A long-standing exhibitor at the RSW, RSA and RGI, winning many awards including the Charles Rennie Mackintosh Association Residency. His work is characterised by a rich and vibrant palette and varied use of oil, mixed media and collage.
Callum Innes: One of the most significant abstract painters of his generation he has been short-listed for both the Turner and Jerwood prizes. His work is in collections from TATE London to the Guggenheim in New York.
Jean Martin: Member of the RSW, and known for her still life paintings, she works in watercolour, acrylics and mixed media and collage.
Toby Paterson: A leading Scottish contemporary artist and Becks Futures winner known for his highly distinctive paintings, reliefs and constructions.
Cathie Pilkington: The first female professor of sculpture in the 300-year history of the Royal Academy who previously taught sculpture at LSA.
"We were introduced when he first arrived in 2015 and I have been impressed by his talent and determination to build his career in a new land thousands of miles from the home he was forced to flee."
LSA, which is based in a 150-year-old former Norwegian seamen's church, has grown from modest beginnings. An independent charity, its purpose is to teach art to a high standard and to be a nurturing place for students.
Photography from: Colin Hattersley Photography – colinhattersley@btinternet.com – www.colinhattersley.com – 07974 957 388