Looking for some ideas on where to go and what to do to celebrate Valentine's Day? Here are some ideas for you
WHERE TO HAVE A DAY OUT WITH YOUR VALENTINE
The otters at Edinburgh Zoo were sharing some love in anticipation of Valentine's Day this week. They were given some red heart-shaped ice treats by their keepers.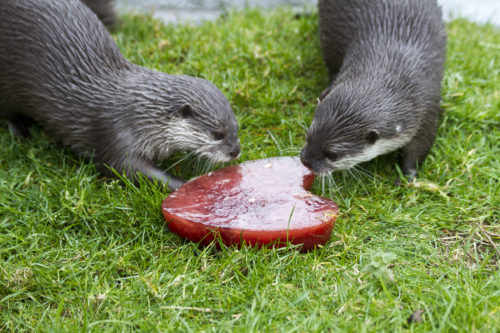 And RZSS Edinburgh Zoo has a range of Valentine's activities planned for the February mid-term break this weekend.  The Zoo provides a perfect location for a fun-filled date, with romantic film screenings of Lady and the Tramp taking place from 11 to 14 February.
More details of the film screenings here.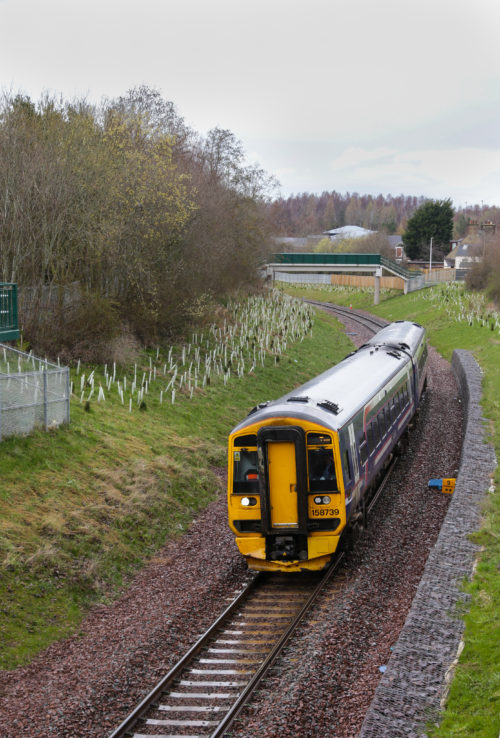 Couples are encouraged to get out of town using the Borders Railway route to enjoy an alternative Valentine's Day this year.
It is now easier than ever before for people to travel the 31-miles from Edinburgh Waverley to Tweedbank and enjoy the many activities and attractions on offer along the route in the Scottish Borders and Midlothian.
So if you are looking for something different to do this Valentine's Day, there are plenty of alternatives to red roses, hearts and teddies in the heart of the Scottish Borders and Midlothian, and just a short trip from the Borders Railway:
The Chocolate & Pastry School, Cocoa Black, Peebles
UK World Chocolate Master Ruth Hinks and her team offer a wide range of courses in chocolate and pastry making. So instead of buying a box of chocolates for your loved one this year, couples could spend a lazy afternoon immersed in chocolate and learning all about how to make their own chocolate truffles or chocolate caramels.
For more information, visit: http://www.cocoablack.com/
Borders Abbeys Way
Discover some of Scotland's ancient abbeys in the Scottish Borders on this scenic walk linking Jedburgh, Dryburgh, Kelso and Melrose Abbeys. Visitors to Tweedbank Rail Station can join the Way at Lowood Bridge and spend the day taking in the beauty of Melrose Abbey, famed as the burial place of Robert the Bruce's heart, and Abbotsford House, the home of Sir Walter Scott.
Dalkeith Country Park
As well as great walks and cycle paths at Dalkeith Country Park, Restoration Yard offers a relaxing shopping and dining experience in the newly-converted stable yard. After a walk or cycle around the grounds of Dalkeith Palace, visitors can sit back, relax and enjoy a coffee and a slice of cake before taking a relaxing walk around the shops to pick up a Valentine's gift for their loved one.
Dalhousie Castle, Bonnyrigg
For the more adventurous at heart, the stunning surroundings of Dalhousie Castle in Midlothian provide the perfect backdrop for getting up close to the amazing birds of prey in the falconry experience. Other activities include owl encounters, hawk walks and archery.
For more information, www.dalhousiecastle.co.uk/falconry
WHERE TO EAT
Couples can have their Valentine's Day captured forever by an on-site caricaturist, or profess their love via pebbles like the penguins do, by painting a pebble for their significant other. There will also be a flamingo-themed selfie opportunity, Valentine's themed food and special animal talks for visitors to enjoy.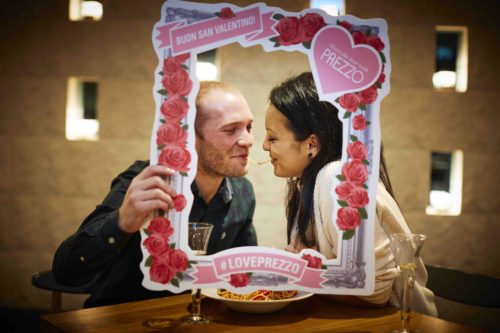 42% of Scots think that Italians are more romantic but actually almost half of us are happy to show affection in public nowadays. Notably though about a quarter of women would like their partner to be more romantic……
So now Prezzo want you to get along to enjoy their romantic candlelit atmosphere.
At Prezzo you can snap a selfie of you and your partner sharing a kiss. Tag it with @love_prezzo #LovePrezzo and you might also capture your photos in one of their Kiss-Cam frames available at the restaurant.
HOW TO FIND YOUR NEW LOVE
A new dating app could be the answer. Soda has been developed by University of Edinburgh graduate, Blair Waller and he hopes it will help to connect people face to face rather than through their phones.
When you check in to one of 50 venues in Edinburgh you can also view the profiles of anyone else who has used the app – then you can use it to meet up.
Blair came up with the idea following his own trials with dating apps, and he believes Soda offers singletons a more organic solution to making real connections with people.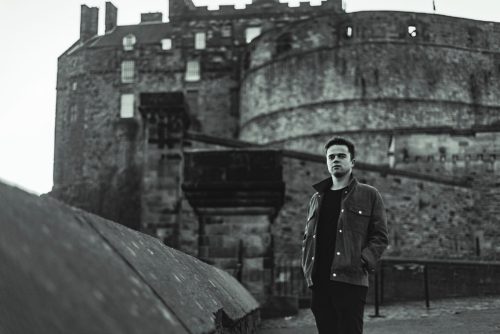 He said: "My experiences with dating apps involved investing a huge amount of time in building up an online relationship to an actual date, only to realise that the spark just wasn't there.
"Soda helps people discover other singles easily by integrating handpicked, safe venues into the app to allow users to connect socially at the best venues in Edinburgh and avoid wasting time with online connections.
"I studied in Edinburgh and absolutely loved the social scene in the city because of the number of unique and beautiful venues on offer, there really is something for everybody.
"The city is very cosmopolitan with a great mix of people who have moved there for work or studies. If they don't have a network of people in the area, Soda can really help them become more social, discover new venues, take advantage of exclusive deals and hopefully make real connections with people."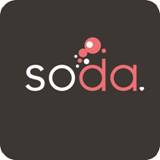 Blair launched his app on Friday in the capital. You can find it on the App Store and on Google Play.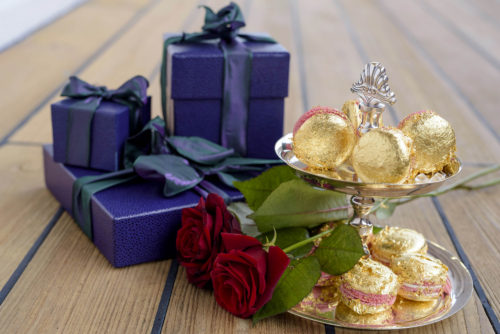 IF MONEY IS NO OBJECT…..
The iconic five-star Royal Yacht Britannia has teamed up with Scotland's luxury jewellery house and Royal Warrant Holder, Hamilton & Inches, to offer the most luxurious Valentine's experience that money can buy, worth £250,000.
Her Majesty The Queen's former floating palace is one of the most exclusive evening events venues in the UK and is offering the Ultimate Luxury Valentine's Experience for one couple who are looking for a romantic experience of a lifetime.
The evening begins with a chauffeur-driven Rolls-Royce, courtesy of Rolls-Royce Motor Cars Edinburgh, leaving from The Balmoral Hotel where a night in a luxurious suite awaits, for a private quayside arrival at Britannia. The couple will be piped aboard via the Royal Brow, an entrance previously reserved for The Queen and members of The Royal Family.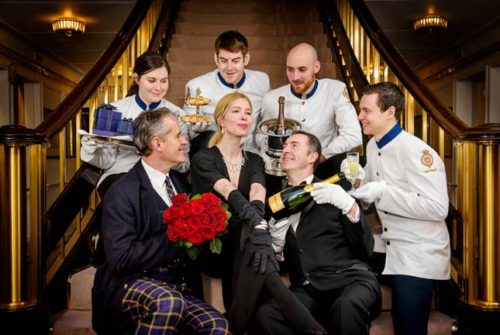 Britannia's Ultimate Luxury Valentine's Experience includes private jet transfers with Jet Logic from any airport in the UK and is available for one couple to experience the most romantic evening of a lifetime.
Andrew Thomson, Head of Hospitality & Events at Britannia said: "We're honoured to be collaborating with so many prestigious brands who share our desire to offer one of the most luxurious romantic experiences for someone looking for a very unique Valentine's gift.  
"Her Majesty The Queen and His Royal Highness The Duke of Edinburgh spent over 44 years of their marriage sailing around the globe aboard Britannia.  Today, guests are treated to the same unrivalled high standards as when Britannia was in Royal service to create the perfect evening following in the footsteps of Royalty."
Interested? Details here.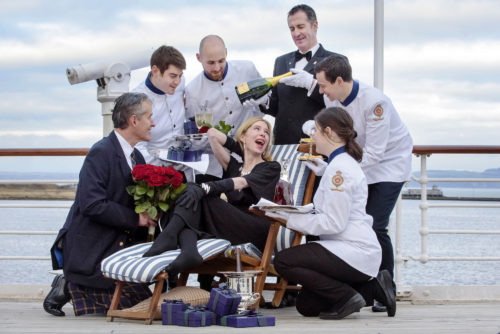 Whatever you do we hope you have a 'lovely' time!