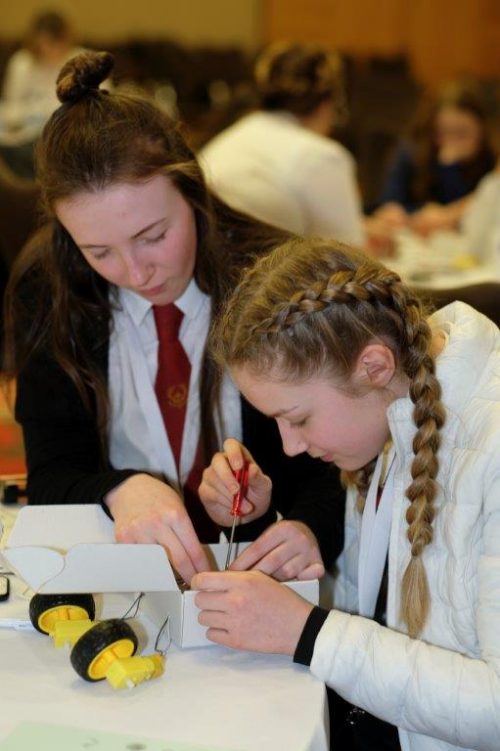 Pupils from Boroughmuir High School and Broughton High School joined girls from Larbert High School last week to find out about the careers they could have in STEM.
Accenture Girls in STEM event was organised to coincide with the results of a study into gender equality and the pay gap. The research found that young people in Scotland associate science and technology careers with 'doing research' 'working in a lab' and 'wearing a white coat'. Sadly girls were more likely to have this view than boys. This led to the events organised by Accenture to spark interest in  Science, Technology, Engineering and Mathematics (STEM) based careers. The firm hopes to show participants the variety of jobs which are available.
Lucy Murdoch of Accenture writes:
"Gender equality continues to be a widely debated topic, with much discussion around the gender pay gap and how to get more women represented in senior roles, on boards and as our elected representatives.
"However recent research from Accenture highlights that girls are still grappling with stereotypes and negative perceptions of STEM subjects from an early stage of schooling.
"The transition from primary to secondary school marks a decline in girls enjoying traditional STEM subjects. So it is incumbent on us to demonstrate the wider value, as well as the fulfilment and personal satisfaction that can be derived from pursuing STEM career opportunities.
"That's why Accenture and Stemettes have come together to create a STEM event in Edinburgh. Bringing together girls from schools in Edinburgh and the Lothians and Falkirk, the event offers a first-hand look at the career options that open up through studying a STEM subject.
"The Girls in STEM Accenture events are taking place in France, India, the US and UK. In Edinburgh, the event includes a series of workshops which will give the girls hands-on, one-to-one experience.  These include a Science Festival blood bank, a coding lesson that demonstrates how to complete an IoT vehicle and control it to drive, Arithmetrricks (maths magic) and Accenture's Innovation Hub featuring the latest in Google Glass, VR headset and Alexa.
"In a world that is ever changing, we need to keep nurturing our future talent and leaders. That means for girls in particular, encouraging parents, teachers and employers of the future to introduce the fantastic STEM career choices that are there for the taking."