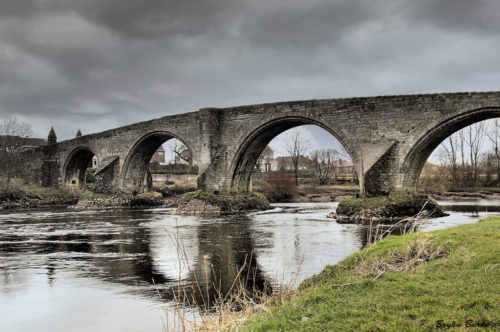 The city of Stirling was the star of the Chancellor's autumn budget (or "statement" or whatever we are supposed to call it these days.) Philip Hammond announced that it's to get a "City Deal", similar to ones already  rolled out for Scotland's six other cities.
It will mean government money for a new digital hub, a waterfront development along the banks of the River Forth, a new park around the castle and a number of social projects to tackle poverty and the attainment gap in local schools.
Stirling is not a large city – it has a population of 86,000 and there are another 50,000 living in the surrounding areas. It sits in the very centre of Scotland but, since medieval times, we've largely forgotten it exists. However the castle has been rediscovered and "done up" recently. Stirling boasts its own university, a fine cricket club and a "Big Noise" orchestra. Now it hopes the City Deal will result in £500m of public and private investment and up to 3,000 new jobs.
This week the City Deal for Aberdeen was signed by UK and Scottish ministers. Again it's hoped that will create 3,000 new jobs and result in a new technology centre for the oil and gas industry, another digital hub and support for transport projects and agricultural innovation.
It's all part of a government strategy to use the cities to boost economic growth in their areas and to draw in private investment.  It's what the Chancellor's new emphasis on "infrastructure" is all about. He's to spend £23bn on such projects over the next five years.
I guess he's been persuaded  into such un-Tory-like public expenditure by looking over the cliff into the scary waters of Brexit.  The official forecasters – the Office of Budget Responsibility – are predicting slower growth next year. Inflation is on the rise. Earnings are not keeping pace. He's abandoned his predecessor George Osborne's tough austerity medicine and replaced it with a much milder dose in the hope that the British economy will eventually recover from the Great Recession. So he is to borrow more and put off balancing the budget till…..well sometime after 2020.
The new infrastructure funding will mean the Scottish Government gets £800m more next year to spend on roads, houses, schools, broadband etc.  We won't know till the Scottish budget is announced next month exactly how the new funds are to be used, but already the finance minister Derek Mackay has said it won't make up for the cuts the UK government has already made in Scotland's budget.
One thing he might spend the money on is the railways. They've been in the news for all the wrong reasons.  Last week there was a drastic train breakdown at Waverley station which caused chaos across Scotland. This week, the overhead wires failed at Finneston near Glasgow, bringing commuter trains to a halt. Then it emerged that trains were missing out station-stops on some lines in order to keep to timetable.  The train operators, the Dutch firm Abellio, have been threatened with losing their franchise early. There have been calls from the unions for the transport minister Humza Youzaf to resign, but so far he's withstood the tide of public anger.
The minister quickly announced £16m of additional money for new signalling at key junctions this week. He said he was studying the possibility of mounting a public sector bid for the Scot Rail franchise.  And on Thursday came the fortuitous announcement of £144m for a train-tram link from Glasgow city centre to the airport. That's part of Glasgow's City Deal and should be in place by 2025.
But all of this "infrastructure" investment is a long way off and what's missing from the recovery package is some immediate spending.  The local councils have been warning that they are facing cuts of £183m this coming year. And that's on top of the £500m cut last year.   They reckon that 40,000 jobs have been lost in local government over the last five years.  The Fraser of Allander Institute suggests that a similar number of people have given up looking for work altogether and that the fall in the official unemployment figures is therefore misleading.
In the private sector, the news this week has been mixed. Kwik Fit Insurance announced it is to close its office at Uddingston in South Lanarkshire with the loss of 500 jobs.  But the 150 jobs at the aluminium works in Lochaber and the hydro electricity plant at Kinlochleven have been saved. Both have been bought from Rio Tinto by the Indian metals company Liberty House.
Another foreign buy-out saw Skyscanner, the Edinburgh-based computer ap which compares travel costs across the globe, being snapped up by a Chinese firm for £1.4bn. It will continue to be managed in Scotland by its present managers. But it's the deal that got away just ahead of the Chancellor's £400m plan to stop Britain's high-tech companies being bought up by foreign firms.
Alas one business which is not doing well is "T in the Park."  Scotland's largest rock concert, held over a long weekend in July, is to take a break for a year while it looks for a new venue. The move from Balado in Fife to Strathallan in Perthshire has not been a success. The first year was marred by transport problems, and the second by violence and drug taking. So if you know of a spare muddy field that can accommodate 225,000 swaying pop fans, including 70,000 campers, then get in touch with the organisers DF Concerts.


Finally, the beavers are to stay.  The Scottish Government has been hesitating for the last 18 months over whether to grant protected status to two groups of beavers who've been re-introduced to Scotland after an absence of 400 years. An official trial, with just a few families of beavers, has been going on at Knapdale in Argyll for the last seven years. And in Tayside, an unofficial release of beavers has been bothering farmers for several more years.
But now the environment secretary Roseanna Cunningham has ruled that both sets of beavers will be given legal protection. There will, however, be a management scheme set up with farmers to mitigate any damage and no new release of beavers will be permitted unless they are officially approved.  A dam good compromise, in my view, and the beginning of the re-wilding of Scotland.