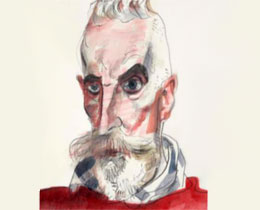 Young artists are encouraged to enter the third annual John Byrne Drawing Competition now. Since it launched there have been over 7000 entries from pupils across Scotland.
The judge is the esteemed Scottish artist John Byrne who will choose the overall winners and the runners up. All winning pieces of art will be exhibited at Paisley Museum and Art Gallery on 17 March 2017 which is where Byrne grew up.
The competition is run in partnership with The City of Edinburgh Council and Education Scotland to promote art among pupils from primary four to third year.
John said: "It's important we give the young people in our country the opportunity to harness their artistic skills and love for drawing. This competition is a great way to showcase that and, once again, I look forward to seeing the remarkable talent that will be unveiled."
Last year's competition winner, Alba Cooke Ribes (P5) from Hermitage Park Primary School in Edinburgh was selected from over 4,000 children and young people from across Scotland.
Ron Cowie, Senior Education Officer at Education Scotland, added: "Art is an important part of the curriculum and this competition aims to encourage pupils across Scotland to develop their drawing skills and use their creativity. Education Scotland is proud to be involved in this competition as it is a great way to raise the profile of drawing."
Pupils will also be able to take part in an interactive online event with John Byrne on 2 December 2016. The 'Glow Meet' will give pupils across Scotland the chance to sign up and ask any questions they may have about John Byrne's work.
The closing date for entries is Friday 3 March 2017.
The competition rules are here :