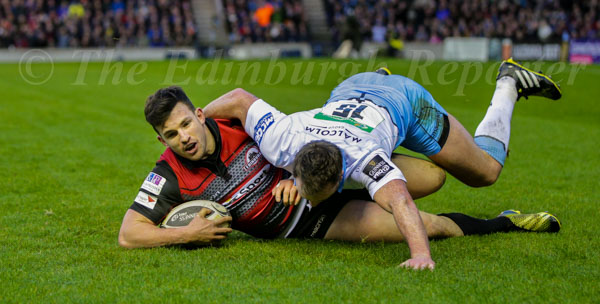 With 74 shopping days – 75 if you include the hours before the match! – to go, tickets for the first leg of the annual 1872 Scottish Cup at BT Murrayfield (Monday 26 December, kick-off 4.05pm) are now on general sale.
A record crowd of 23,642 fans watched Edinburgh Rugby and Glasgow Warriors face-off at BT Murrayfield last season in the first leg of the world's oldest inter-city rugby derby, and this year we're hoping to make it even bigger. 
Changes to the 2016/17 fixture schedule means the Cup will not take on a double-header format as previous years. The second-leg will take place at Scotstoun on the last day of the regular season (Saturday 6 May).
As previously announced, Crabbie's will sponsor the 1872 Scottish Cup trophy for the 2016/17 season.
The alcoholic ginger beer brand will capitalise on a marketing campaign, including naming, pouring, sampling and hospitality rights and will use the partnership to support trade sales and brand visibility around key rugby occasions with consumers in the on and off trade.
Crabbie's was established in 1801, when Crabbie's Ginger Wine was originally produced in Leith, Edinburgh by John Crabbie & Co. Crabbie's Alcoholic Ginger Beer is the number one selling brand in the category and a keen supporter of rugby at all levels, from the elite level to grassroots. All of Crabbie's sponsorship activity includes outreach to grass roots clubs and the brand has launched a collector reward scheme for clubs at crabbiesrugby.co.uk, where clubs can earn equipment such as balls, tackle bags, contact bags, post protectors and more.
Edinburgh Rugby's Managing Director Jonny Petrie, said: "The 1872 Scottish Cup this year is going to be another great event; we want to continue the growth of the game and make it a tradition in the Christmas calendar. 
"So, to be able to team up with a brand like Crabbie's – a company who, like us, have over a hundred years of heritage in this city – is fantastic.
"We're looking forward to working with them in further bringing the match to life for a bumper crowd."
Michelle Chadwick, Senior Marketing Controller for Crabbie's, says: "It's a terrific honour to sponsor the 1872 Scottish Cup, a trophy with a history like no other and contested between the two oldest rivals in the game. Scotland is the home of Crabbie's and we are proud to be a key part of the Scottish rugby support.
"Crabbie's involvement in rugby is all about growing the game, getting more people playing and enabling grassroots clubs to flourish at the heart of their communities.
"The 1872 Scottish Cup games are some of the biggest in the club rugby calendar and create such a massive buzz that they're perfect for Crabbie's involvement – we can't wait for the games to come around."