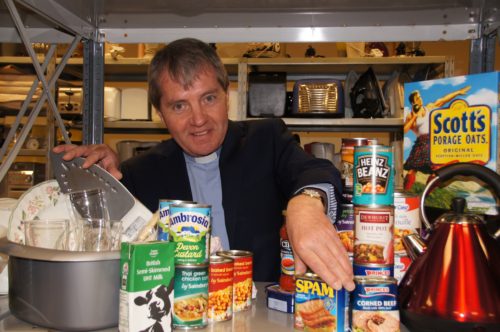 The Moderator of the General Assembly of the Church of Scotland Right Rev Dr Russell Barr is speaking at a seminar in Edinburgh today on the matter of solving homelessness.
He wants bodies such as local authorities to get together in a 'collective endeavour' to end rough sleeping and the reliance on temporary accommodation.
This would be based on a successful Finnish model where the number of homeless people has been reduced.
Dr Barr founded Edinburgh charity Fresh Start in 1999 which supports people out of homelessness. Scottish Government figures for 2015/16 show 34,662 homeless applications were from households. And 17,822 children and young people under 18 are members of these households – a situation the Moderator described as "shocking and shameful".
The application figure is not dissimilar to that from 1996, when there were 40,989 applications according to the housing charity, Shelter. The Moderator says anecdotal evidence suggests the current figures also underplay the true level of homelessness, as they do not capture the number of people who are 'sofa surfing' without registering themselves with their local council.
The Moderator has raised the issue and his concerns at the highest levels with the Scottish Government and the City of Edinburgh Council.
Dr Barr will say during his speech today : "Finland is the only western European country which has been able to significantly reduce the number of people homeless in recent years.
"Based on Maslow's hierarchy of needs, the Finnish distinctive 'housing first' model has demonstrated it is always more cost-effective to end homelessness rather than manage it.
"This nationally agreed policy made it possible to establish a wide partnership of state authorities, local communities and non-governmental organisations.
"And because there were co-ordinated and targeted measures in the implementation of the policy, it is working.
"Collective endeavour – as expressed in a nationally agreed strategy appropriate for the Scottish context – could not be more urgent.
"A strategy which commands cross party and cross discipline support and a strategy which embraces local authorities, housing associations and the third sector including the various charities involved in supporting people who have been homeless."
Dr Barr will say: "The current shortage of affordable housing is placing pressure on temporary accommodation and this in turn has a negative impact on emergency accommodation.
"And if access to emergency accommodation is difficult then the outcome is an increase in rough sleeping
"The homelessness 'pipeline' is effectively blocked at the exit point into affordable social housing and until that blockage is removed so the problem will continue to grow."