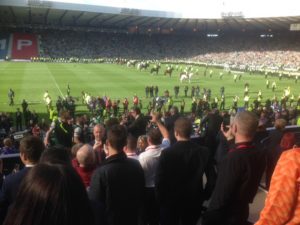 An independent judicial panel convened by the Scottish FA has dismissed the case against Hibs and Rangers following the disturbance after this year's Scottish Cup final, finding no provision in the current rules to punish the clubs.
The panel ruled that the SFA complaint was "irrelevant and should be dismissed" and "does not offer to establish any infringement or breach of a rule".
A statement on the Hibs'  website reads: "Hibernian FC welcomes the decision of the Judicial Panel which has dismissed the complaint raised against the Club for the reasons set out in the judgment.
"Receipt of the complaint was the first quantification to the Club of the damage to the pitch at Hampden. The Club has today paid that sum to the Scottish FA."
Leeann Dempster, Chief Executive of Hibernian, said: "We hope that this now brings an end to the matter and the Scottish FA can concentrate on implementing the recommendations made by the Independent Commissioner, Sheriff Principal Bowen."