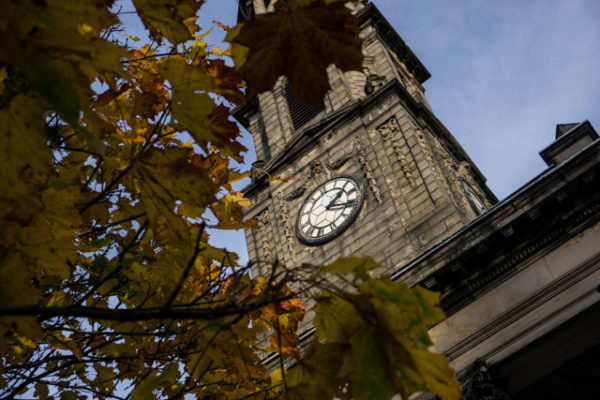 Craft makers off to London
Racing at Musselburgh today
Sign up for our daily newsletter
Edinburgh Airport goes Spotacular!
Gates to return to University of Edinburgh
More than 20 cutting edge craft makers, including five from Edinburgh, have been selected for a showcase of Scottish excellence at the London Design Fair.
It will be the first time Scotland has had its own pavilion at the prestigious four-day event and aims to raise the international profile of its talent in everything from ceramics, lighting and jewellery to glass, furniture and textiles.
The Scotland: Craft & Design pavilion is an initiative between Craft Scotland (the national agency for craft) and Emergents, a community interest company supporting the development of creative careers, enterprise and the economy in the Highlands and Islands.
Fiona Logue, Director of Craft Scotland, comments: "We are very proud to be able to such an outstanding body of finely crafted and beautifully designed work in the Scotland: Craft & Design pavilion.
"Scottish craft is contemporary and cutting-edge. There is a real appetite from the industry and design-savvy public for quality pieces that show both a mastery of a craft and design execution.
"Not only are our makers and designers among the very best, but the whole sector is full of vitality and energy – that's the message we want to get across to design fair visitors from all over the world. As this is Scotland's Year of Innovation, Architecture and Design it is exactly the right moment to be celebrating our achievements and helping generate new business opportunities."
Photos courtesy of Colin Hattersley
***
There will be racing at Musselburgh this afternoon. Looking for some tips? Here it is from the horse's mouth….
Trainer William Haggas is hoping to raise a glass at today's Caledonian Brewery Raceday at Musselburgh with wins from the trio of horses he's sending north from Newmarket.
In the 6.30 feature race, the £18,000 Caledonian Cup Handicap over 1m 6f, Haggas pins his hopes on Novalina, and will be looking to improve his impressive better than 50% strike rate at Musselburgh over the last five years which boasts eight wins out of 15 starts.
However, Carluke-based trainer Keith Dalgleish might blow the froth off premature celebrations with Introductory, saddled by Paul Mulrennan, and looking for a third win in a row following last month's win at Musselburgh over a mile and a half.
In the 4.55 EBF Stallions Breeding Winners Scottish Premier Handicap, Haggas' Soundstrings will be looking to repeat the success of an August outing at Catterick when it won by ¾ lengths, and likewise the Al Maktoum owned Mujaamil, a recent winner at Ripon, could be amongst the honours in the Deuchars IPA Handicap (5.55).
With the Old Firm derby played on Sunday, those who follow the current Scottish Cup winners might fancy the Ian Jardine trained Hibou in the Deuchars IPA Handicap, while those from the other side of Edinburgh who have fond memories of a long-serving perm haired goalkeeper, may be in safe hands with Henry Smith in the Three Hop Handicap (7.00).
Hibou will be wearing cheek pieces for the first time and on its last outing was a decent third at Musselburgh, while Henry Smith, trained by Garry Moss on Teesside, is looking for a third Musselburgh victory in a row.
Entertainment will include live performances by both the Caledonian Brewery Pipe Band and a rousing ceilidh band, while delicious street-style food will be available across the racecourse.
The atmosphere will also be ramped up with a thrilling race card. As well as the seven flat races, including the £20,000 Caledonian Cup, the crowd will also be treated to three fast-paced harness races.
Already one of the biggest events in Musselburgh packed annual schedule of fixtures, the race day is popular with racing enthusiasts and also a huge draw for families, as children under 17 are admitted free when accompanied by an adult.
Tickets are available on the day at £25 (£15 concession), with the doors opening at 12.30pm and the last race getting underway at 7.30pm. www.musselburgh-racecourse.co.uk.
Do sign up for our daily newsletter so that you keep up to date with all the latest articles in the easiest and most convenient way.
Sign up here for a daily email from The Edinburgh Reporter
Edinburgh Airport Plaza was given a Spotacular makeover by pupils from Strawberry Hill Nursery earlier this week to mark Bank of Scotland and BBC Children in Need's new schools fundraising campaign, 'The Big Spotacular' that aims to raise money for disadvantaged children and young people.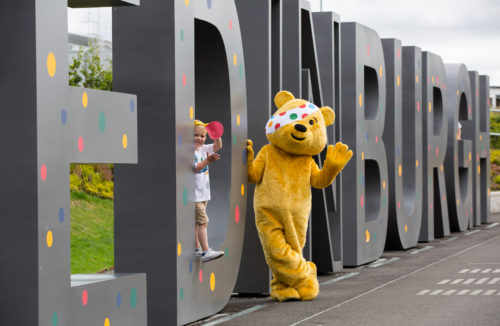 Edinburgh Airport Plaza is one of a number of iconic landmarks across the UK being turned Spotacular. Schools across the UK are also being encouraged to go spotty for BBC Children in Need in the weeks leading up to the Appeal Night, with children and teachers dressing in spots, selling spotty cakes and goods, and taking part in spotty themed challenges to raise money.
Tessa Hamilton, Nursery Manager, Strawberry Hill Nursery said, "It was great fun coming to the Edinburgh Airport Plaza today and turning it Spotacular! The pupils are very excited about developing their spotty fundraising ideas for 'The Big Spotacular' from BBC Children in Need and Bank of Scotland."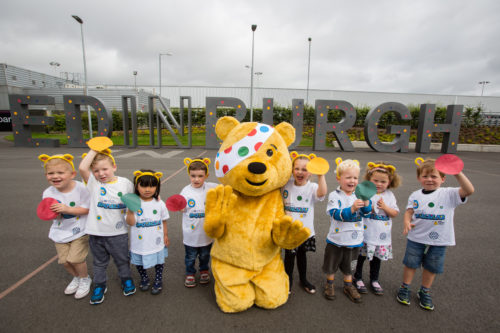 A show of affection by former students has prompted the return of landmark gates to the University of Edinburgh.
Principal Sir Timothy O'Shea has pledged to bring back the 19th century gates, which stood next to the University's graduation venue, the McEwan Hall.
The carved sandstone and wrought iron entrance – removed as part of a £33million redevelopment of the hall – had been due to be sold off at auction.
Now, thanks to a deal struck between the University and Sussex-based Summers Place Auctions, the gates – which have provided the backdrop for countless graduation photos – are to be reinstated on campus.
Proposals to refurbish McEwan Hall and transform neighbouring Bristo Square have adopted an open plan approach that encourages movement around the site.
The gates did not feature in the landscape design and an agreement was reached with the University's contractor to have them removed.
Professor O'Shea said: "On hearing news of the proposed auction, Edinburgh graduates far and wide contacted the University to express their fondness for the gates. The views of our alumni are very important to us so we are happy to bring the gates back."
Summers Place Auctions director James Rylands said: "We are delighted to be able to work with the University to facilitate the return of the McEwan Hall entranceway to Edinburgh where we hope it will be admired by residents and visitors for many generations to come."