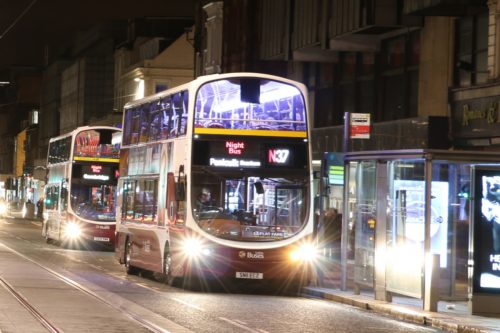 Lothian Buses' 'Festival Support Team" will help deal with the busiest bus services during the Edinburgh festivals.
Additional buses will be on standby ready to be called by staff to help deal with any hotspots as revellers leave city-centre venues.
The company has also introduced a roving street team of six travel advisors who are deployed at major stops across the heart of Edinburgh during the daytime to provide assistance during busy times. The team are on hand to help passengers with travel information and give advice on best value tickets.
To help festival goers return home, Lothian Buses' Nightbus network runs every night, all night throughout the city, with some routes reaching into East and Midlothian.
Nightbuses run to some of the popular accommodation centres for festival visitors, including Mortonhall Caravan Park, Queen Margaret University Halls of Residence and Heriot Watt University Riccarton Halls of Residence. Several services also travel through Newington and Cameron Toll, serving the wide range of B&Bs, guesthouses and hotels.
At weekends, buses depart up to every 15 minutes on some services with Service N22 seeing single deck vehicles replaced with double decks to maximise passenger capacity.
Richard Hall, Managing Director of Lothian Buses, said: "We're very much part of the Edinburgh community and the festival is a great time for the city. With extra vehicles on standby to cope with demand and additional staff available during the day around the city to provide information, we aim to make travelling by bus as hassle free as possible during what we recognise is a very busy time. When the night is over everyone just wants to get home as quickly and safely as possible and we'll be playing our part to help visitors and residents alike to do just that."
Charlie Wood, Director of Underbelly, said: "Underbelly is delighted to be working with Lothian Buses and NightBus this Edinburgh Festival Fringe. As Official Transport Partner, Lothian Buses provides an extensive network of services 24/7 which naturally complements us and the shows that we're hosting at our five Underbelly venues. NightBus offers exceptional value for money and is a great way for our audiences to travel home or to their accommodation after our shows."
Ridacard season tickets are valid on all NightBus services, as are Day&Night Tickets purchased after 6pm the previous day. Night Tickets can be purchased on the bus for £3 and can be used on multiple buses.
Those staying outside Edinburgh to the West can also take advantage of the Park & Ride facility at Hermiston which is served by a regular Nightbus service.
More information on Nightbuses is available from the Lothian Buses website: www.lothianbuses.co.uk/nightbus