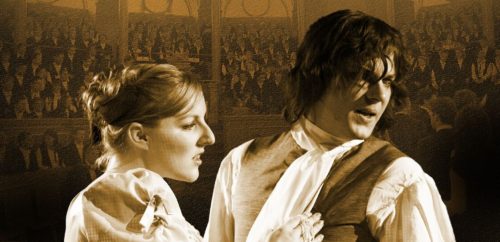 Andy Platt and Max Reid are producing their new musical No Horizon – described by Chris Evans as 'a Yorkshire Les Mis' – on this year's Fringe. It tells the astonishing true story of a blind boy from Yorkshire.
Andy spoke to The Edinburgh Reporter about the musical.
1.      No Horizon is the story of Nicholas Saunderson, a blind Yorkshireman and an 18th century mathematician and visionary. One of the aims of the musical is to "restore Saunderson to his rightful status as a national icon." What was your introduction to Saunderson?
It was a chance conversation with a friend.  Saunderson hails from not far from where I live and when she was telling me about him, I couldn't believe I hadn't heard his story.  In his day he had a reputation which spread across Europe but his story has been cruelly forgotten. It seemed so wrong!  It's such an empowering tale that has the power to inspire and I wanted to try to do something about it.
The story lent itself so well to being told through a musical.  Great musicals tend to be about big themes and Saunderson's tale is perfect.  Yes, he was a genius mathematician but that's almost secondary as it's his character that makes the story so inspiring. The man had nothing in his favour; he'd lost his eyes as a one year old, Braille didn't yet exist, he came from a tiny village in the middle of nowhere and yet he refused to accept his lot.  No Horizon is about a dream – it's about courage, passion and love.  And, it's about taking on the world.  Add to that the fact that it's a true, but cruelly forgotten story, and it pretty much demanded to be written.
2.      Saunderson did not follow the common practice of publishing his work, although his lectures and treatises did enter into circulation during his lifetime. How did you go about establishing his character and voice for the musical?
There is a limited amount of material recorded about his life but enough to glean a sense of the man's extraordinary nature.  Cambridge University were very helpful to me when I was researching as were the local libraries.  Amazingly, the most detailed help came from Canada; I noticed online that a paper had been written on Saunderson by a Math lecturer over there and he kindly airmailed his paper over.  I couldn't open it quickly enough!
What emerged was a fascinating picture of a true character.  He was blunt and to the point and, although it's not particularly so in No Horizon, he was profane.  He was entirely committed to his work and yet there was so much more to him.  He learned to play the flute.  He was clearly a brave man – he hunted on horseback.  He was also very ingenious – in a world that offers no support to a blind man, he created his own ways of doing things.  And he was an inspirational educator.  There is a strong body of support for the fact that he discovered Bayes theorem before Bayes!
3.      Saunderson had to overcome obstacles in order to gain the Lucasian Chair of mathematics at Cambridge which has subsequently been held by Stephen Hawking. Has Saunderson's tenacity been an inspiration in trying to bring his story to a national audience?
One hundred percent!  Bringing a show the scale of No Horizon to the Edinburgh Fringe (and we have tried to create on the grandest scale possible in spite of the natural restrictions of the Fringe)  is a herculean undertaking and there have been many times when we could have abandoned it.  Max Reid (my co-producer) and I have often commented that, at such times, we want to do justice to Saunderson's legacy and behave how he might have done.  We've had many hurdles of our own to overcome but a heartfelt desire to restore his name has driven us on.  I like to think he would be pleased by our own tenacity.
4.      What challenges did having a lead character who is blind bring to the staging of your production?
That's a great question because there have been some real challenges.  So much of acting, even on the stage, can come down to the eyes.  One of the key issues is how to ensure that the audience thoroughly relates to Nicholas.  Samuel Reid who plays Nicholas has spent hours studying footage to accurately replicate the mannerisms of a blind person while still ensuring that he fully communicates on stage. I think he is doing a fabulous job.
5.      What are your plans for the show after you complete the Edinburgh run?
We don't want to stop there!  We have already had some great support from the likes of Chris Evans who described the show as a 'Yorkshire Les Mis' and Elaine Paige who has played some of our music on air and we want to build on that further. Saunderson needs to be known nationally and we would like to tour the show on that basis.  That's very much the next phase and while we are in the giant shop window of Edinburgh, we are looking to explore options with other producers, producing theatres and receiving houses to help us achieve this.
No Horizon, Underbelly Med Quad (Venue 302), Previews 3-5 Aug | 6-15 and 17-27 Aug | 17:00-18:25 £10/£9 (Concs)
Save
Save