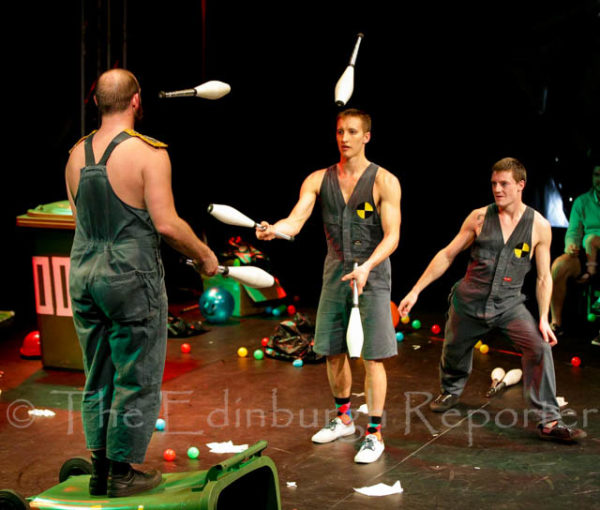 How much fun do you have at your work?  In the Trash Test Dummies, you have three Australian performers who have the most genuine passion for making people of all ages smile and laugh at their wheelie bin chaotic capers inside the big top.
The late morning performance inside the Underbelly Circus tent was awash with kids of all ages, including those of us who are still kids at heart.
You can tell you'll need to be strapped in to your seats to enjoy the ride that lies ahead, as the trio get on with their act even with the bumper crowd filtering in.  One unsuspecting member's rucksack contents are filled with some of the rubbish intended for the hat-trick of wheelie bins that are set to play an integral part of this energetic show.
Crowd participation is certainly high on the agenda as the Aussies set out to make them enjoy watching the show as much as they are putting it on.
Amongst the madcap mayhem of impressive athletic prowess leaping and indeed squeezing in and out of the plastic props, there are well choreographed gymnastic moves that earn well merited rapturous rounds of applause.
'Ballet with Bins' may not reach a theatre near you any time soon, but the tranquillity of the scene allows both audience and performers to catch their breath before the show once again bursts into carnage as hundreds of miniature soft balls fill the stage and the almighty of ball fights ensues.  Brilliant stuff!!
The shows ends in a flurry of top class juggling before it's ultimate finale.  Well, almost.  Post show, the guys spend time outside the venue taking selfies, doing tricks with kids and of course, selling merchandise.  I mean, who wouldn't want a mini wheelie-bin full of chocolate to take away!!
The show, at Underbelly Circus, runs until 21st August.  Tickets are going fast here.