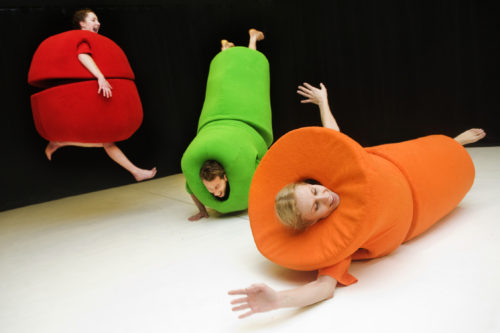 Lithuanian dance show Puzzle, a dance performance for babies, is headed for the Edinburgh Festival Fringe to entertain the very youngest audiences of all at the ZOO venue.
After a limited run at the 2015 Fringe Puzzle has toured internationally to great acclaim.
As three dancers emerge from brightly coloured onstage shapes, they begin to create the perfect playful mood for the youngest audiences.
What follows is 30 minutes of pure joy followed by a further 15 minutes when the audience are invited to interact with the soft, tactile shapes on the stage.
How does the world look to a small child? Is it round or angular, is it yellow or blue? Is it rectangular, green, hollow, or soft? Child psychologists have discovered that in their earliest years children learn best through reacting to a variety of geometric shapes and colours.
The Lithuanian choreographer along with her three skilled dancers  piece together a puzzle from their coloured shapes in an absorbing performance exploring a child's developmental stages.
Dancers crawl, bounce, walk and run as they traverse a delightful world filled with vibrant costumes and gorgeous scenery which is assembled into an array of familiar forms, from geometric shapes to vegetables, fruit and flowers.
Accompanied by music composed especially for little ones, this is a gentle and joyous dance performance for babies.
On its original showing PUZZLE was nominated by Lithuania's Ministry of Culture as the best children's performances of 2012.
Mozaika | Puzzle from Lithuanian Dance on Vimeo.
Dance Theatre Dansema is an independent company with a commitment to promote contemporary dance to children and young adults. Puzzle comes to The Fringe as one of a group of four Lithuanian dance shows at Zoo.
Puzzle
Venue: ZOO Monkey House
Dates: 5-20 August, except 14 August
Time:
12.00