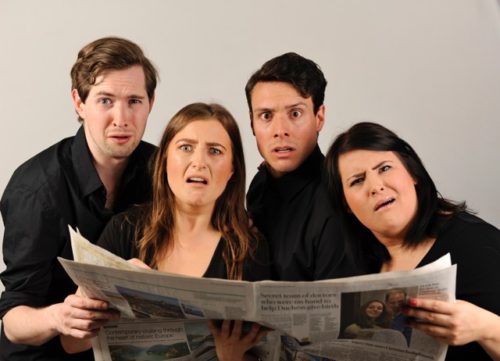 This year's show is unmissable. Nobody is safe: politicians and celebrities alike come under fire in a turbo-charged barrage of bladder-threateningly funny songs and sketches brimming with punchlines. Annually, one of the best-reviewed shows on the Fringe.
This Guinness World Record- breaking show is flawlessly delivered by four outstanding performers at lightning speed expertly accompanied by an on-stage Musical Director. NewsRevue's exceptional writing, superlative performances and ever-original takes on current affairs have made it a Guinness World Record breaker, Fringe First winner and a Perrier finalist.
LISTING INFORMATION
VENUE: Pleasance Courtyard (Venue 33)
DATES: Aug 3-29 (not 17)
TIME: 18:30 (1 hour)
TICKETS: £17/£15.50 (Preview £9.50)
Get your tickets here.