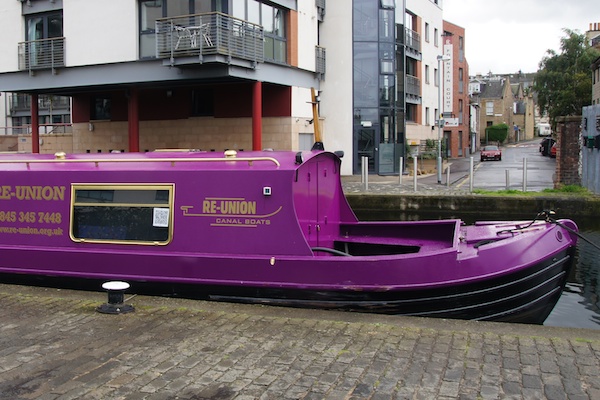 Edinburgh based social enterprise Re-Union Canal Boats has received a grant of over £60,000 from the Heritage Lottery Fund (HLF) for an exciting project, Union Canal Unlocked. The project, a partnership between Re-Union Canal Boats, Scottish Waterways Trust and Scottish Canals, will create an innovative package of interpretation celebrating the natural and cultural heritage of the Union Canal from the heart of Edinburgh to Falkirk.
The project will engage local communities from Edinburgh to Falkirk and provide a variety of unique learning, training and volunteering opportunities. Volunteers will undertake oral history training to gather stories and memories of the historic, 200-year-old canal to contribute to the creation of an oral history archive.
Collected stories and photographs will be available on a brand new Union Canal Unlocked smartphone app, designed to open up the fascinating past of the waterway to all and identify sights of historic and local interest. The app, along with a colourful leaflet and heritage signage installed across the towpath, will encourage visitors to explore and enjoy the rich heritage of the Union Canal.
Local people can get involved in producing a community inspired animated film and enjoy a travelling community exhibition. Project Officer Louise Gamble and Heritage Adviser Karen Marnie will be working with local communities, volunteers and project partners to explore, uncover and capture the story of the 31 mile-long canal until completion of the project in early 2017.
The project builds upon the success of Glasgow's Canals Unlocked, a creative interpretation and phone app project delivered by Scottish Waterways Trust and supported by Heritage Lottery Fund, Scottish Canals, Glasgow City Council, Creative Scotland and Glasgow Sculpture Studios.
Opened in 1822, the Union Canal was constructed to provide the people of Edinburgh direct access to cheaper coal. The canal was quickly overshadowed by the introduction of the railway resulting in the decline of the canal. In the 1930's this decline continued with the infilling of the lock flight connecting the Union Canal and the Forth & Clyde Canal. The continued decline and closure of the Western terminus in 1921 and the Eastern terminus in 1933 resulted in the canal being closed to navigation in 1965. The Union remained in a derelict state until the 2001 when the canal re-opened as part of the Millennium Link Project.
Commenting on the award, Patricia Bowie said: "We are thrilled to have received the support of the Heritage Lottery Fund and are confident the project will engage local communities, provide learning, training and volunteering opportunities and celebrate the natural and cultural heritage of the Union Canal."
Lucy Casot, Head of HLF Scotland, said: "Thanks to National Lottery players HLF grants preserve fine examples of Britain's industrial, maritime and transport genius that not only helped create the nation, bringing jobs and economic prosperity, but also influenced the world.  HLF is pleased to support Union Canal Unlocked that will pass on experiences and achievements from our working past to future generations."