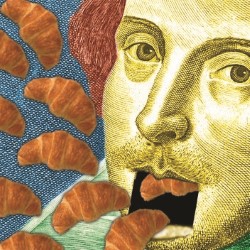 With this Tragi-Comic codpiece full of rags to riches, hose 'n leather britches you will never get a better bit of schmutter in your life.
Taking the ruff with the smooth – The Edinburgh Reporter delves deeper.
It is a commonly unknown fact that Bill The Quill legged it from Stratford neither for landing Mary Arden in the MacDuff or that he was fingered for the venison poaching blag at Charlecote Park.
No, Al Murray, The Pub Landlord has it bang to rights, when he claims Shakespeare has to be as hard as nails to walk around Birmingham reciting Iambic pentameter wearing a ruff in the local pubs. 'Oi!' The Gaffer would bellow, 'Yer Bard.' The nomenclature stuck – the rest is history.
So welcome the bardic breakfasters back for another Fringe fest of sensational 'Shakespearience' now in its 25th year.
Promising a '…pleasing plethora of pentameter, puns and pastry. Perfect for hardened Bard fans, blank verse virgins or those just after some quality fun over freshly-brewed coffee and freshly-baked croissants.' Maybe the first time anyone can honestly laugh at Shakespearean clowns? In the interests of thespian critical rigour The Edinburgh Reporter probed this suspiciously disrespectful soiree of King's Men off-spring sprogs and interrogate them to discover whether they are truly swans of Avon or upstart ugly ducklings. Company-man, Damian Sandys, foregoing a momentary hissy-fit of forsooths and twisting a 50p piece to tighten up his tights was put to task.
TER : Can you tell us a little bit about your show, what can we expect? And why did you decide to perform your show at the Edinburgh Fringe?
DS : This is the 25th year of Shakespeare for Breakfast and it's turned into a fringe institution. What morning isn't complete with coffee, croissants or comedy? We'd like to say that we recycle the scripts to make life easy, but each year write a new topical comedy.
TER :  What makes your show different?
DS :  Each year we take a Shakespeare play and turn it into an up-to-date comedy. Will King Lear be voting UKIP, does Hamlet want to manage Iceland at the next World Cup, is Othello interested in being Donald Trump's running mate? If these were the ideas put on the rejected pile, what's left has to be comedy gold!
TER : Who would enjoy seeing your show?
DS :  It's a family friendly show – with jokes for adults and kids and a fun way to start your day – settle down, have a coffee (or tea) and a croissant, and enjoy some light-hearted entertainment. Our audience returns year after year – so if you've never seen it, come along and you'll understand why.
TER :  What show, apart from yours, would you recommend at the Edinburgh Fringe and why? (Note, shameless in-house plugging!)
DS : As it's the 25th year of C theatre, they've pulled out all the stops to do some of their biggest and best hits. Personally, I'm going to pick Alice as there's over 13 Alice in Wonderland plays at the Fringe, and this is by far the most captivating. Also Shakespeare in the Garden – if it's a lovely day, you get to enjoy ice-cream (for the kids) and Pimms and watch Twelfth Night in the gorgeous C South gardens
C venues – C (Venue 34)
https://tickets.edfringe.com/whats-on#q=%22Shakespeare%20for%20Breakfast%22
Theatre (comedy, family) 10:00am. 55 minutes. Suitability: U. Accessibility W/A/WC
Group: C theatre