The Edinburgh Reporter has met Charlie Miller OBE on many occasions, but this was the very first time we had the opportunity of interviewing him in his office on the very top floor of the Stafford Street building which became his flagship store in 1971.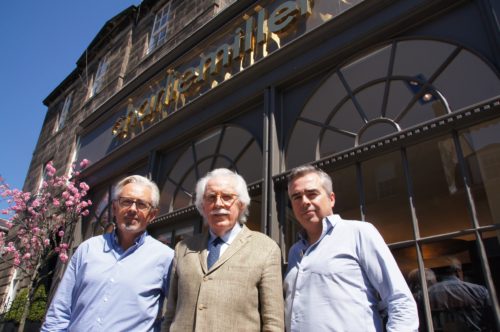 Charlie Miller has a particular way of talking about himself and his view of who he is, demonstrating a real perception about who he really is.
He knows he has been pretty successful in business, but talks little of the material benefits it brings, preferring to  dwell on his life story and how he got where he is.  He starts out with a disarmingly simple comment: "I'm organic you know.  I just do one bit right and then I move on to the next thing." And it is almost as though all of this has happened to someone else or happened in a random fashion which he had little to do with.
TER : Did you set out with a plan?
CM : "No. What I set out with was an idea of perfection within the limits of what hairdressing can be."
TER : Are you an artist?
CM : "Yes, yes, I am artistic sure. I am aesthetically intelligent, that's what I am. That kind of phrase comes from a whole background of stuff that I have been studying for donkey's years which is not yet mainstream. It is a beautiful, fabulous way of understanding what we are all like. I have these views of myself that are slightly different.
"What people actually see in others is that we seem to be attractive to clients. We have so many people who have come to us for years, some of the first clients have come to us for fifty three years.
"We really work hard to try and please people."
TER : Where did you start?
CM : "When I was young I wanted to be a drummer in the Marines, but I couldn't as I was too young. I went along to the Marines recruiting office in Frederick Street as soon as I left school. I was just 15. My Mum and Dad used to take me to the Tattoo where I saw these drummers.
"I had the idea that I would be one of them. I loved drummers!" (and to prove the point he starts drumming on the table….!)
"I wanted to join the Marines as I thought they were the best drummers, but the recruiting officer told me I had to be 18 to get in and that I would have to come back later. Well now I think thank goodness for that!"
"Then I decided I would like to be a ladies' hairdresser. I went for a few jobs but couldn't get one. I used to go to Bob's at the top of the West Port to get my hair cut and at that time they were the best in Edinburgh. I used to come into town from Niddrie on a number 2 bus to get my hair cut.
"I saw that they had an advert in the paper for a ladies hairdresser, so I went along to apply and I got the job.
"I stayed there for about 7 or 8 years. I loved it. But apart from my doing my wife Janet's hair,  I was not actually doing ladies' hair at all. I was only cutting men's hair at that time.
"Vidal Sassoon was coming out with all these looks at the time and I would look at them and believe I could copy them. The type of thing we were doing was all geometric haircuts – but I didn't call it that at the time.
"I used to cut Janet's hair in all these styles. I could just look at them and then she would get a new hairstyle.  People would look at her hair and then clients would ask me to do their wives' hair too. But at that point I had got so into doing men's hair I wouldn't agree! I got such a good training there and I really liked Bob very much.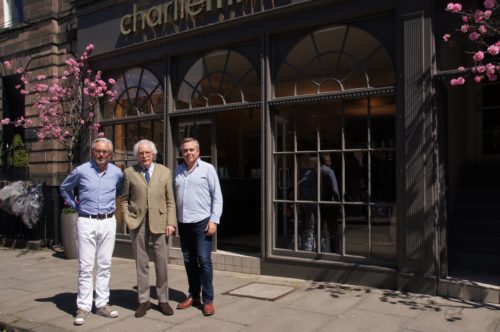 But it turns out that there is more to Charlie Miller at 71 and a half than simply someone who is good at cutting hair, or who has had a few lucky breaks in business. He asserts that his approach to life and running a business is one that is very much affected by the study of psychology.
Charlie explained: "A client of mine was a psychiatrist. We became very good friends and he brought a booklet with him one day and told me I was already doing some of the things talked about in the booklet. It was all about the theories of American psychologist Carl Rogers. The bit that got me was that to work with people you have to be genuine, have empathy and have what is called non-possessive warmth.
"So this is what we teach our hairdressers now. We don't try and change their personalities, but they all work within these parameters. I didn't tell anyone about it at first because it was too 'far out' at the time!"
So what does it really mean we asked? "Well I shall try to tell you what it means. First you have to have genuineness – you have to be able to do what you are supposed to do. You cannot kid on that you can create the hairstyle that people want. There is no point in that.
"Empathy – our hairdressers have to be able to read what the client wants.
"Warmth – the trickiest of the lot. You have to display not phoney warmth but real warmth.
"We have had clients who are really difficult, but if you employ all these life skills you can really please them. And of course it's not just clients it's everybody you meet anywhere in your life.
Charlie uses unusual and interesting phrases which he clearly likes, and which he probably repeats often, as they seem to roll off the tongue easily.
He said: "I am spiritually interested – not a churchgoer – but spiritually interested. I consider myself to be a spiritual nomad. I don't go about preaching all this you know! But this is all part of who I am."
So back to hairdressing and his long career in Edinburgh: "I had a great training in Bob's and I built up a big clientele during my time there. Then I moved into Prestonfield Avenue to a barber's shop there. That did not feel like a big leap at the time, but it turned out to be an important step.
"I didn't have any money, but I went for it anyway. It was time for me to move on. I continued with contemporary men's haircuts, and then I got the chance to move to Rose Street where all the boutiques were. I was up the stairs from Bruce's Records where we didn't have a very good record player. It didn't matter as Bruce  (Findlay) ran a wire up to our salon with a speaker. Then we had great music!
"The salon there was very stylish. Janet has an eye for that – we used sheets of wrapping paper on the walls and at the time it all looked fantastic! We had good chairs too.
I eventually gave in and started doing women's hair and then that just took over."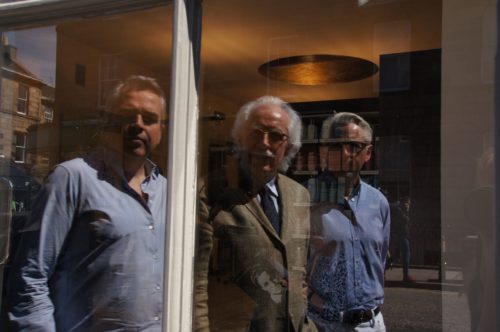 For the fiftieth anniversary Jason and Josh Miller who are both directors in the business produced a glossy magazine to celebrate the achievement. Charlie loves it, but says he was only involved in a peripheral role to approve the final edit. He is really pleased that he can now take that kind of back seat.
"My boys are smart you know, along with India, Jason's wife, and they are ready to take over here. I only do hair for a few pals now."
Over the years other hair salons have been hot on the heels of Charlie Miller, and yes, some of them have kept going, but Charlie Miller Hairdressing is perhaps the most successful of all in the capital.
Charlie Miller, as it is now, really started when they moved to Stafford Street in 1971.
But firmly at his side Charlie has his wife and family: "Janet keeps me right you know. She sees things that I don't and then makes a suggestion to me of something I might try out. According to my sons there will be a Charlie Miller in another fifty years too. They know what they're doing. I have stood back gradually and let them take over bits and pieces of the business.
"Way back Jason won newcomer of the year, and then India won it after him – that's for the whole of the UK you know! And then Jason and the team started the Academy at Holy Corner which is absolutely nothing to do with me. I occasionally do a talk there. I get wheeled out now and again! I enjoy the way that I fit in here, and my boys are very inclusive of me but I am not in the salon every day now. We are all directors in the business, so I direct a little here and a little there. But I don't need to do too much, the boys are so good at everything now. And Ian Blyth is a Director too – he runs the South St Andrew Street branch and we have worked together for over 35 years now.
"I am not fed up with business at all – I simply move on to something else."
It is clear that although he does not style hair every day Charlie Miller uses his extra time in philanthropic efforts to help young girls with cancer.
TER : So what do you do with all this extra time now that you have it?
Charlie is straight back with an answer: "Well I never played golf in my life so I don't do that! Last week I was driving four Buddhist nuns around Scotland. They were amazing. I am also involved with the
Teenage Cancer Trust
. We use wigs here for hairdressing shows anyway, and it seemed right to use those skills to help children with cancer. I first became aware of the need in 2007 when I had a young cancer patient as a client.
"I went around Scotland and found hairdressers who could help produce wigs for children with cancer for Hair 4 U. I had to pick the best of course. Then I expanded the project to England too. So now there is a whole network of hairdressers who will produce wigs – all for nothing.
"How that works is that some children get their hair cut off before treatment to make a wig for them. Others get wigs created from hair donated by others.  Teenage Cancer Trust is a big part of my life now. I think people know that – it has been publicised quite well.
"I did not really know before then that teenagers got cancer, and they were given fibre wigs by the NHS. Now they can get a real hair wig, and it costs them nothing. I have experience of real hair wigs because of the hairdressing shows we have done."
Charlie's friends in the city include mega successful businessman Sir Tom Farmer. Theirs has been quite a story : "I went to the North Pole with Sir Tom Farmer – one of my famous friends! – I cut his hair there for charity in 2010. When he asked me I had to think about it for about half an hour and then I said I would do it as long as it raised money for Teenage Cancer Trust. I had to cut his hair really quickly! I had a hat on but he was feeling the cold! I have known Tom for ages. He is an amazing man.
 As for fame? We asked if that matters much? "Well I have been happy to grow into the role of being someone who the papers seek out. But I don't usually go to them!" He particularly does not mention the fact that he was awarded the Order of the British Empire by Her Majesty the Queen in 2012 for services to hairdressing, although there is a photo of him receiving his honour in the commemorative magazine.
With five branches and over 100 people employed there, Charlie Miller Hairdressing is a big presence in the capital hairdressing scene, and the man himself is also a big presence in any room he steps into.
(And yes for those of you who wonder about these details I did pay special attention to my own coiffure before going to meet the great hairdresser for this interview! He himself was of course immaculately turned out with trim moustache and swept back locks.)