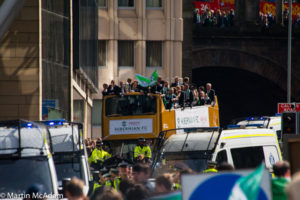 John Doolan is relishing the challenge that lies ahead at AESSEAL New York Stadium following his appointment as new boss Alan Stubbs' number two but he insists that it was a difficult decision to leave Easter Road and the scenes following the Cup Final victory have made him a 'Hibee for Life'
The pair completed the formalities on their deals with the Millers yesterday after leaving their posts at Hibs and Doolan admitted was delighted to finalise the deal.
Many Hibs' fans however were sorry to see him leave the club and he was touted  as a replacement for Stubbs.
"We had two years at Hibs which ultimately ended in us bringing the Holy Grail for the fans in the Scottish Cup," he told www.themillers.co.uk.
"It was a tough decision and to be honest it's happened really quickly and my head has been in a whirlwind for a few days now.
"It's done now and it was unbelievable living in Edinburgh amongst the fans and I'll be a Hibee for the rest of my life now.
"Once you've gone in there and you see how the fans have been with us and the club including everyone that's been with us behind the scenes, it's a really heartbreaking decision to make.
"I'm really looking forward to it and working with the club, I'm just pleased it's done now and we can look forward now.
"We've worked together for two years now but we've known each other for a long time as school mates and living in the same area, so in terms of working with him it's been great.
"In terms of working with Alan, we've only just started on this journey and long may it continue."