What better way to celebrate Mother's Day than with the long-time tradition of afternoon tea before a loiter along George Street? None, I would argue.
I took my Mum to Tigerlily for her belated celebration last week and I am very glad I did.
I wanted to go somewhere that we could relax, and have a good catch-up over our tasty morsels, which would also provide a sense of decadence befitting the occasion — it's not too often I get to go out on a ladies date with my Mum.
Recently refurbished apparently to welcome Mr Clooney, Tigerlily has several stylish dining spaces, each with its own unique ambience. From crisp white walls adorned with scandi-style picture frames to fairy-light sprinkled walls of ivy, with chic, cascading chandeliers which hover over diners, there is something for every taste here.
On booking I requested a quiet corner so that we might enjoy our chin-wag to the full.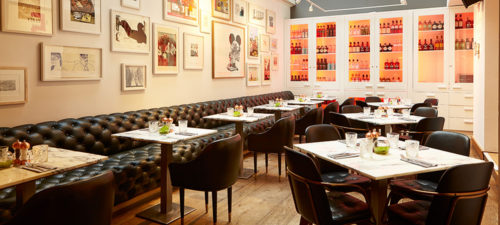 I contacted the restaurant in order to specify dietary requirements (grain-free this time) asking if I could swap my half for a salad which they could do no problem.
Emboldened by some unknown resolve I probed a little further, asking if the chef might feel like tackling a grain-free afternoon tea?
As it turned out the chef is a culinary voyager.
A call from the manager in the morning confirmed everything that could/couldn't be eaten and the chef's plans were sounding good. We were seated in a quiet part at the back of the restaurant which we appreciated.
No dinky little three-tier tea for us: my food had to be kept separate to avoid any contamination. Instead we were presented with a large slate each with our goodies laid out for the picking. It looked good!
My rolls were made of linseed flour and stuffed full of ham and salad, and roasted veggies. Light and springy, these were unlike any other gluten free roll I had tried.
I had a small roasted butternut squash and quinoa salad which was light and tasty, and two almond meal bakewell tarts. All very impressive.
I also had a scone. The lightest, fluffiest, most flavoursome gluten-free scone known to man. It is a hard task to get a gluten-free scone right (I would know!) and this was perfect. So much so that full Enid Blyton mode kicked in – this baby was getting smothered in lashings and lashings of silky cream and a dollop of strawberry jam. (Careful remember that wedding dress! Ed)
My Mum was very happy with her selection – a little more traditional with finger sandwiches, cupcake, a scone and mini doughnut and lemon meringue pie.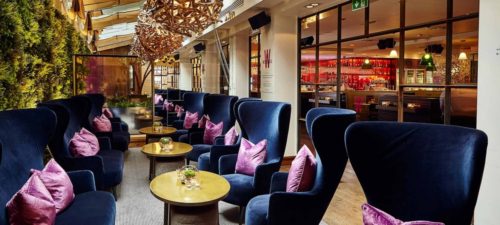 We celebrated my lovely Mum in style and had a glass of fizz as well as our choice of tea.
The Brut was delicious and added zest to the occasion. The manager popped his head in to see if everything was okay and he told me that they get so many requirements these days they are well-practised in catering for a multitude of needs.
I well believe it. I am already looking forward to my next visit, when I shall no doubt be requesting a platter of those delicious scones.