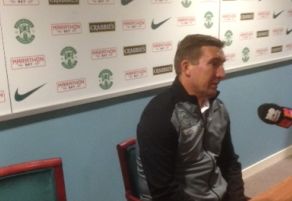 Hibs' Head Coach Alan Stubbs is looking for the supporters to play their part tonight at the Play-off semi final first leg against Falkirk at Easter Road and he hopes that they realise how big a role they will have in the club's promotion bid.
He also insists that the players must approach the game with the right attitude to prevent any criticism from the stands during what will be a nervous 90 minutes for everyone connected to the club.
Hibs have played Falkirk four times this season, winning once and drawing three times although in the last game, Hibs should have won after taking a two goal lead against a 10 man side but two late goals from the Bairns secured a draw which subsequently resulted in Falkirk finishing in second place.
These games however will have no bearing on tonight's fixture.
Stubbs told Hibs TV: "The fans can be huge and I hope they realise how big a role they can play. You can see the team respond to them when they are right behind the team.
"There was a point on Saturday when the players didn't help themselves by giving away a couple of misplaced passes and it created an edginess for a few minutes and these are the kind of situations that we want the fans to pick the players up.
"They have been great since the first day I walked in. They have bought into what we want to do, and they like the players that we have brought to the football club.
"The Falkirk games have all been close. The fact that we have remained unbeaten against them doesn't necessarily mean anything going into two different games in a different format now.
"Falkirk have their own style of playing. They like to play and can get the ball forward and can mix it up. They have a good balance of players that you would look at as 'team players' who do the dirty jobs and they have players who, frm a technical point of view can hurt teams. Overall they are a well organised team who don't give an awful lot away.
"Whenever you go into any game there is a pressure. People who tell you there is not are lying. When you are at a big club, there is always an expectation to get results and win games of football.
"This is a big football club who would like to achieve their aim this season in terms of promotion.
"We have another two difficult games against Falkirk that we know we will have to be at our best if we are to come through.
"Ideally we want to take a lead into the second leg and if we can great. If not…..we have already been to Falkirk and won there before so its not all lost. we feel as we can get a result home and away and Falkirk probably think the same."