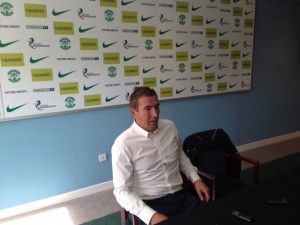 Alan Stubbs has sympathised with fellow boss Mixu Paatelainen and his players after Hibs knocked Dundee United out of the Scottish Cup at Hampden Park this afternoon after a penalty shoot out, but he praised his players efforts, especially debutant goalkeeper Conrad Logan.
Speaking after the game Stubbs said: It's not a great way to lose a semi-final. A bit of me is thinking about their dressing room and Mixu, but a bigger part of me is delighted. In the first half we were good and the better team but Dundee United came back into it."
Before the game, many questioned Stubbs' wisdom when he selected Logan ahead of Otso Virtanen for the semi-final but the Hibs' Head Coach was proved correct after the Irishman made several vital saves and won the man of the match award.
He continued:  "People have been questioning me and it could have been Otso (Virtanen) but I went for experience and I made the right call.
"It was a tough one because he's only recently come to us but the risk is less when it's a goalkeeper, because he does maybe six or seven kilometres a game, compared to 13 kilometres for outfield players.
"He didn't surprise me because I'd seen him in training. Now I have a big decision to make for the Rangers game on Wednesday. We're in the play-offs and we'll think about that before we turn our attention to the Cup final."
Stubbs also confessed that he was at the toilet when Jason Cummings dinked his 'Panenka' style penalty over the bar, but despite the youngster's miss, his boss praised his character for having the nerve to take it.
"If I had to describe Jason's penalty on the radio it would go 'bleep bleep bleep bleep.' Actually I didn't see the penalty he missed because I was inside at the toilet. I was hoping to hear a cheer but when I heard the groan I knew what had happened.
"I can't knock him because it takes character to take a penalty kick during a semi-final and if he had done that type of penalty consistently, I would say, 'Fair enough', but to do it in a semi-final?
"If it had went in though, then everyone would have been waxing lyrical."