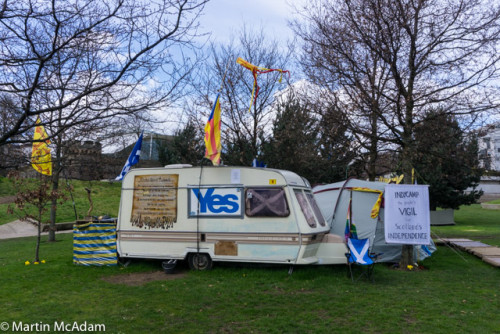 CALA to consult on 450 homes for Leith
South West Neighbourhood Partnership Parks and Greenspaces
Do you need a TV licence for your caravan?
Queen Margaret University Food and Drink Park
Dalkeith Country Park 
A major house builder will meet with the public to discuss plans for around 450 much needed homes on a former industrial dockland site in Leith.
CALA Homes' plans for its proposed 'Waterfront Plaza' development on currently disused land opposite Ocean Terminal, will be presented to the public on April 21st within the shopping centre.
The new development would see the creation of one to three bedroom apartments, townhouses and colonies to include 25% on site provision of affordable homes.
The public event follows the submission of a Proposal of Application Notice (PAN) earlier this month, with CALA announcing its intentions to Councillors as well as Leith Harbour and Newhaven Community Council.
The Edinburgh firm is now keen to understand the views and opinions of the local community and key stakeholders early in the design process.
Craig Lynes, Land Director with CALA Homes (East), said: "We are looking forward to engaging with the local community, businesses and key stakeholders to help shape this exciting development.
"Leith has been transformed over the past 30 years, however progress has slowed. It is clear from our nearby Albert Dock development, that there is a demand for a range of high quality properties to include apartments and family homes in the area.
"The benefits of the Waterfront Plaza go beyond the creation of much needed new homes. Our proposals are centred around a pedestrianised high quality Public Realm through the development linking the Shore area to Ocean Terminal.
"The plans will positively regenerate the area and relate to the proposed Tram Route along Ocean Drive whilst addressing a strong and unmet demand for high quality new housing in Leith."
Following a period of Public Consultation and Stakeholder engagement in the coming months, the firm plans to lodge a Detailed Planning Application in the summer.  With a positive planning decision towards the end of the year, work on site could start in the early part of 2017.
The development, on land owned by Forth Ports, would see the regeneration of what is currently a vacant brownfield site while providing a substantial economic boost to the local area, as well as further contribution to encourage the expansion of the Edinburgh trams project.
The development has already gained support from the shopping centre owners, Resolution Property. Dennis Jones, Centre Manager at Ocean Terminal welcomes the residential led proposal which he believes would support the Shopping Centre through the regeneration of the immediate surrounding area.
Dennis said: "The proposed development will have a positive effect for the local region and will directly support jobs, not just in Ocean Terminal, but in the wider local area."
Commenting on the development, Stuart Paterson, Chief Financial Officer at Forth Ports, said: "Forth Ports welcomes CALA's housing development plans for Waterfront Plaza.
"This is great news for the local area and will help address Edinburgh's current housing shortage and support the Ocean Terminal retail development."
The exhibitions will take place at the main entrance foyer in Ocean Terminal, on April 21st  between 12-7pm
Sign up here for a daily email from The Edinburgh Reporter
The South West Neighbourhood Partnership is holding a Parks and Greenspace workshop on 28 April 2016 from 6.00pm – 7.30pm at Stenhouse Church Hall.
If you are interested in getting involved please sign up to come along.
It will focus on community involvement in local parks and is open to all ages.
Large parks in this area include Harrison Park, Saughton Park, Murieston Park, Sighthill Park, Redhall Park and Hailes Quarry Park, but there are also a number of smaller parks and green spaces. A number of parks have established groups of friends and social networks – where these exist the NP can help you get involved and where they don't then they will discuss what type of setup would work in your area.
The main topics for the workshop will be:
·         Formal and informal friends of parks groups
·         Community growing
·         Grass cutting and meadow planting
·         Plus funding opportunities for those who're interested in getting involved.
Do you need a TV licence for your caravan?
Fergus Reid, spokesperson for TV Licensing Scotland, said it was important people understood the differences in licensing requirements between static and touring caravans.
"Being caught watching TV without a licence could put a real dampener on your holidays – we want people to ensure that they stay on the right side of the law," he said.
"The law is very clear. Anyone who watches or records live programmes on any device, on any channel, or live online, must be covered by a TV Licence. You don't need a separate TV Licence for static caravans, mobile homes or moveable chalets, provided you provided you don't watch TV in both homes at the same time. 
"It's quick and easy to check the requirements online, simply go to http://www.tvlicensing.co.uk/info."
Martin Spencer, technical manager, The Caravan Club added: "As caravanners across the UK look forward to a spring getaway, it's wise to check that you are correctly covered by a TV Licence if you plan to watch TV while you are away. The good news is that you may already be covered by your home licence if holidaying in a touring caravan or motorhome so it's worth taking the time to brush up on the licensing requirements."
No licence is needed for a touring caravan so long as a valid TV licence is held for the main home address. A TV Licence can be bought in minutes and costs £145.50 for the year. There are a range of ways to pay including weekly, monthly and quarterly payments.
You can find out if you need a licence, buy one or tell TV Licensing if your details have changed on their  website
Queen Margaret University has published a new website outlining its plans for a food and drink innovation park on a 50 acre site next to the university. The proposals, which were the subject of a PAN consultation last year, along with a slideshow of architect's drawings, can be viewed at www.edinburghinnovationpark.co.uk . Further information is attached in the latest newsletter.
Phase one of the Innovation Park would include a National Food and Drink Enterprise Centre, providing specialist facilities to support food sciences, research and development.  A second facility would provide facilities for the wide range of SME sectors innovating across all services required by the food and drink sector.    Further development would include additional enterprise centres and other buildings, developed both speculatively and in response to market demand.
Read more in the newsletter below:
Dalkeith Country Park's multimillion pound redevelopment has announced that 50 new jobs are being created.
A new retail, food, drink and wellbeing space, named the Restoration Yard, will take pride of place in the park's previous stableyard area alongside the magical new Fort Douglas playground. Overall the new development brings more than £4million of investment to the popular park.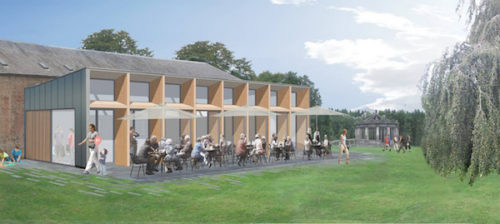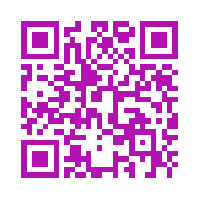 If you are reading this article in print and would like to visit The Edinburgh Reporter website then simply scan the QR code here with a smartphone or tablet.