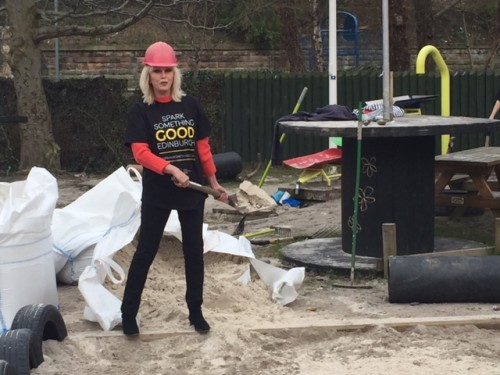 Joanna Lumley OBE, today joined forces with M&S employees and customers across the city to help launch the retailer's Spark Something Good initiative in Scotland.
The campaign, which aims to inspire and motivate M&S employees and customers to take action for social good by donating time to their local communities, saw Joanna jump at the chance to visit Edinburgh to volunteer at some of the capital's key charitable projects.
Joanna first surprised volunteers and staff at the Oxgangs Neighbourhood Centre and then rolled up her sleeves and got to work in the centre's garden, where volunteers were busy installing new gates and planting a new herb and vegetable garden.
Edinburgh is the first city in Scotland to host an M&S Spark Something Good event, following the successful launch of the initiative in London last summer. It will see 24 projects take place across 24 cities in the UK and Ireland, over the course of 24 months.
The Yard, an organisation which supports disabled children and young people, were also delighted to receive a visit from Joanna. She offered a hand with painting to improve the playground area and spent time with service users to hear more about the positive impact the charity has on their lives.
The Edinburgh Reporter News from Phyllis Stephen on Vimeo.
Celine Sinclair the Chief Executive of The Yard told us it was thrilling to welcome Joanna: "Having a celebrity at The Yard is completely thrilling for our staff team and also for our children and families to know that there is that level of interest in the charity. It does help us create a better profile within the local community because really without the community support we receive, and the corporate support from campaigns like Spark Something Good we simply would not be able to operate.
"Currently we run a service in Edinburgh, Dundee and soon in Fife. At our flagship centre in Edinburgh we support around 2000 disabled children and young people from 2-25. We open the service 6 days a week from 9 in the morning till 9 at night and all day on a Sunday.
"The Yard is designed specifically for disabled children, so all of the children who come to us have a disability of some sort. The majority of the children will have a diagnosis of some description. We also work with the whole family and siblings are invited to come along.
"We have a broad range of volunteering opportunities here at The Yard. Some people work on reception or with play work, but today the particular task is to renovate the sand pit. We have a huge sand play area which is completely accessible. The whole space takes quite a lot of TLC!"
At the third and final stop Joanna made her way to Social Bite, a charity that supports the homeless by offering the chance to enjoy a hot meal in a restaurant environment. Joanna joined forces with other M&S volunteers to serve tea and coffee to those popping in to the 'Social Supper', a gathering that takes place each week for the homeless.
Adding a touch of sparkle to the Edinburgh project, Joanna said: "This project is quite simple. It aims to inspire and motivate people to do something great in their community, to grab a shovel, pick up a paintbrush and donate time to help change people's lives.
"Today I've seen and heard about a number of incredibly inspiring projects happening right here in Edinburgh. It's been great to lend a hand to the fantastic volunteers and M&S employees who have worked so hard, and I've seen first-hand the positive impact these projects have on local communities.
"But it doesn't stop here. These seven days are about kick-starting positive change and building on this momentum. So we're calling on you to roll up your sleeves, get stuck in and spark something good."
From today, for seven days, local organisations including the Royal Voluntary Service, Marine Conservation Trust, Granton Youth Centre and The Rock Trust will benefit from a day that will see volunteers donate their time to transform premises, clean up a local beach and support the work of many organisations' hard working employees.
Jenny McPartlin, Store Manager at M&S Princes Street, added: "We're really excited to be starting the next seven days of community and voluntary work in Edinburgh and who better to lend a hand than Joanna Lumley!
"Our M&S teams and customers are always keen to help our community and by working together to volunteer at local organisations that really matter locally, we know we can achieve something great."
Find out more and sign-up by visiting the dedicated website, www.neighbourly.com/mandsvolunteer, developed in partnership with the social network for social good, Neighbourly.com.
Spark Something Good is part of Plan A, M&S's ground-breaking eco and ethical programme. It was developed following extensive research and dialogue which revealed that getting involved in community projects enhanced people's lives.  M&S aims to spark Edinburgh residents into action by showing just what can be achieved when people come together united by a common goal.
Volunteers can also sign up for Spark Something Good Edinburgh, by calling 0117 915 1279.