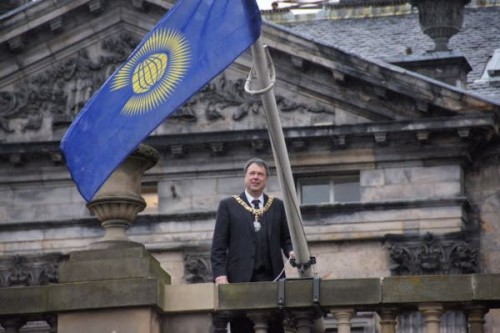 The Lord Provost of the City of Edinburgh the Rt Hon Donald Wilson will be up on the City Chambers archway tomorrow morning at 10am to raise the Commonwealth Flag to commemorate Commonwealth Day 2016.
If you are in the area, perhaps you will stop to watch the short ceremony.
This is the third time for this particular ceremony when the Lord Provost, in his role as Lord Lieutenant, will read a special message from Kamalesh Sharma Commonwealth Secretary and then the Commonwealth Affirmation.
850 flags will be raised in 53 countries in the Commonwealth.
The Lord Provost is expected to say: "The Commonwealth is made up of two billion citizens drawn from all faiths, cultures and ethnicities.
"The countries come together voluntarily in a spirit of co-operation, partnership and understanding and it is for that reason we raise the Commonwealth Flag in unity with those throughout all the participating countries of the world."
He will also convey a message sent from Kamalesh Sharma, Commonwealth Secretary-General. It will say: "Our theme as we celebrate Commonwealth Day 2016 is An Inclusive Commonwealth.
"Reflection on the many ways in which the Commonwealth is a great global good can go hand in hand with celebration as we put out the flags for Commonwealth Day with pride in our shared commitment, and dedicate ourselves afresh to progress and prosperity, with fairness, justice and opportunity for all."
In 1997, the Edinburgh Declaration was issued by the heads of government of the Commonwealth of Nations. Developed over two-thirds of a century, the report served as a consolidation of the membership criteria of the Commonwealth and was signed in Edinburgh.