After a brisk walk in the freezing cold it was a relief to be warmly welcomed into the cosy bustle of the Magnum, where I had been kindly invited to review the menu. It was jam-packed when we arrived which we took as a good sign.
A quick look at the menu told me I'd be ordering red meat for my main  course so I ordered the Cabernet Sauvignon whilst my colleague opted for the Pinot Grigio. We chose the smoked chicken, leek and mushroom terrine with a black truffle and lemon vinaigrette which was well presented, though unfortunately neither of us was too impressed.
The texture of the food was rather gelatinous and we were having trouble tasting the smoked chicken – of which there could have been more. The herb salad didn't do much to enhance the flavour. I expect a bit more texture from a terrine and this one sadly lacked punch.
For my main dish I ordered the slow braised daube of beef accompanied by butternut squash puree, creamed potatoes and courgette noodles with a red wine jus. The presentation was pleasing, although the combination of courgette noodles with creamed potatoes was a little disconcerting as I had to keep reminding myself I wasn't doubling up on carbs but in fact eating my greens! That said, the noodles were a lovely texture and very light against the stodge of the creamed potatoes. The beef was tender and flavourful, if a little on the dry side. The jus provided the moisture and salty kick needed to balance the dish and the wine accompanied this dish very well.
My dining partner plumbed for the classic rib-eye steak with chips which looked very appetising indeed on its large, rectangular platter. Slightly pink, the meat was well cooked although the steak was a bit too fatty though the flavour was good. The chips were large, fluffy on the inside and crisp on the outside which made for enjoyable munching.
Being a wheat-free eater, I would have usually had the ice-cream trio which I didn't really fancy, so I asked what they could do for me with the desserts. The waitress kindly went to speak who rustled up something from the following week's menu – a salted caramel mousse with a chocolate crumble – which was delicious.
My other half ordered the banoffee pie and was sorely disappointed. It came beautifully presented, with a trio of 'pie' ice-cream and caramelised banana. Having taken a mouthful of delicious, home-made banana ice-cream and caramelised banana he had high hopes for the pie part of the dessert but sadly thought that it lacked identity.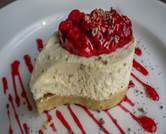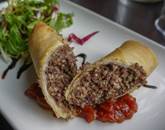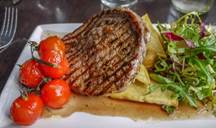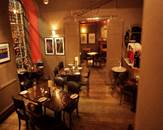 Overall the atmosphere was great and the bistro-pub environment was very welcoming.  Ultimately though the prices are restaurant prices, and whilst the food was presented with restaurant style, the quality was stuck in the pub category.
Service 4/5
Quality 3/5
Venue 3.5/5
Price 2.5/5
Score 13 out of 20