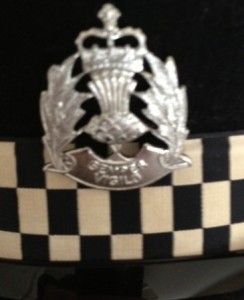 Police  are appealing for witnesses following the report of an indecent exposure which happened shortly after 3pm on Saturday on a footpath leading between Fauldburn and North Bughtlin Brae.
A 33-year-old female dog walker was heading south along the footpath when, just after a divide which leads to Drum Brae, a teenager exposed himself to her.
She continued to walk in the direction of North Bughtlin Brae as he shouted after her.
The suspect is described as white, 14-18 years old, 5ft 7inches tall with a medium build. He had black hair, which was short at the back and sides. The longer hair at the top was brushed forwards. He was wearing a plain black zip-up hoodie and blue jeans.
On North Bughtlin Brae the dog walker met another woman who had just seen the suspect heading towards Fauldburn.
Detective Constable Bruce Raimondo of Edinburgh's Public Protection Unit said: "We're appealing for anyone who may have seen the suspect in the area around this time, or who recognises his description, to come forward.
"We're also eager to trace the witness who spoke to the victim on North Bughtlin Brae, and would ask her to get in touch if she hears the appeal.
"I want to reassure the local community that we're conducting numerous enquiries in order to trace the suspect, and are currently treating this as an isolated incident."
Anyone with information is asked to contact Police Scotland on 101 or contact Crimestoppers anonymously on 0800 555 111.