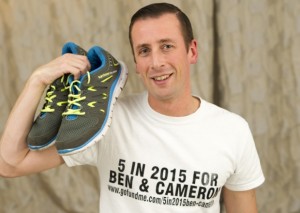 A serving police officer from West Lothian is preparing for a thigh-burning challenge in aid of several worthwhile causes close to his heart.
On May 23rd, Detective Constable Paul Brown who is based in Livingston, will step into his running shoes to begin his first of seven marathons to be completed over seven consecutive days.
Paul, who is a keen runner, will run six pre-planned routes around central Scotland and rounding off the endurance test by lining up with thousands of fellow runners at the Edinburgh Marathon on Sunday, May 29.
The 36-year-old is aiming to raise £4000 for a selection of local charities and for his 10-year-old step-brothers, Ben and Cameron Stewart, who have Duchenne Muscular Dystrophy. The muscle weakening condition will eventually result in the brothers being unable to walk.
Paul said: "Ben and Cameron mean the world to me and have been a real inspiration.
"Every day they live with this debilitating condition with a smile on their face and never complain. The boys recently drew up a wish list of things they would like and places where they want to visit before their condition worsens to a stage where they need assistance breathing.
"Top of their list is to revisit Australia where they have family and I want to do what I can to try and make that happen. I'm also raising money for other worthwhile charities that do a tremendous amount of good work in the community."
Paul is raising funds for a host of local charities including The Tree Club, which provides assistance to children and young adults with additional support needs based in Bathgate, and SANDS Lothians, which offers support to anyone who has been affected by the death of a baby through miscarriage, stillbirth or soon after birth.
He is also raising cash for The Fund a Wish Foundation, which provides access to activities and wishes to children and young people with a diagnosed long or short-term terminal health condition to improve their quality of life.
Kelly Taylor, Service Manager at the Tree Club added: "There is a huge demand for our service and without funding from people like Paul the Tree Club could not keep going.
"We are really excited that Paul has chosen to raise funds for our charity and we wish him all the best."
Anyone who wants to donate money towards Paul's challenge can do so by visiting: www.gofundme.com/7marathonsin7days
He can also be followed on:Facebook – 7 Marathons In 7 DaysTwitter – @7marathonsin7