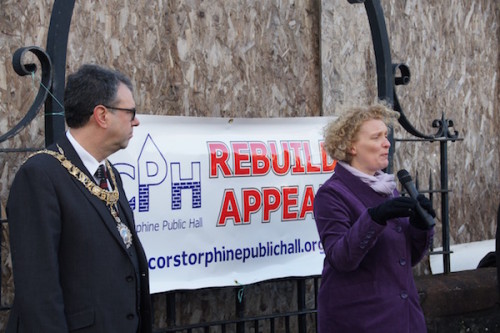 When Corstorphine Public Hall was burned to the ground in 2013 it was a disaster for all the local groups who used it.
An appeal was formally launched earlier today to raise £1 million to rebuild the hall first erected in 1892 with even more room than before. It is also planned to make the building accessible.
Even though insurance monies will be claimed, the steering committee want to raise more funds so that they can make an even better building behind the red sandstone facade.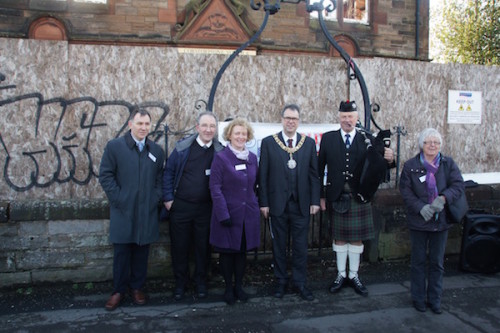 The Edinburgh Reporter News from Phyllis Stephen on Vimeo.
The Lord Provost of the City of Edinburgh The Rt Hon Donald Wilson launched the campaign at the Corstorphine Bowling Club right next to the damaged building this morning.
The Lord Provost said: "This was a devastating fire in 2013 and a great disaster for the local area as it was the hub of the whole community with around 25 groups meeting there.
"It really caused absolute chaos at the time for the groups who had to relocate to other premises.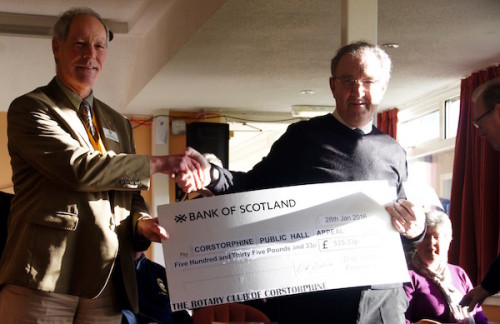 The Lord Provost has suggested that the One City Trust which comes under his direction might be persuaded to make a contribution to the funds needed. He said: "This is the kind of thing that the One City Trust does. Of course they will have to put in an application form and it has to be agreed but this sits well with the objectives of the One City Trust.
Councillor Frank Ross is the local councillor and is also a member of the Public Hall committee.
He said: "In terms of fundraising we have raised £40,000 over the last year in 'unofficial' fundraising. Now we are going for substantial expansion on that as we need more funds."
There are a variety of ways to raise funds and you can get details of all the activities including a Race Night at Maybury Casino on 6 February, on the Corstorphine Public Hall website.
Follow the campaign on Twitter @CPH Rebuild or on Facebook.
At the Hub 191 St John's Road you can buy a brick for £5 or complete one of their standing order forms to make a contribution.
Fox Covert Primary School choir provided some uplifting entertainment at the launch of the fundraising campaign, and a piper led the campaign group from the door of the empty building round to the Bowling Club for a much needed cup of tea.
Yesterday the Edinburgh Evening News published the story about the owner of the other part of the building, built as a 'Carnegie Library' in 1903.
According to the News Gordon Murdie, who was vocal about the statutory repairs scandal which engulfed the council for a number of years, is the sole shareholder of Murdie Properties.
The company did not pay an £8,000 bill to the council following fire safety work carried out by council teams. The company may now be liquidated in terms of the decree handed down by the court.