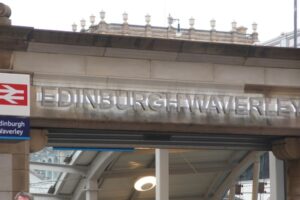 Police are appealing for witnesses after a 45-year-old woman was deliberately tripped as she ran in to Edinburgh Waverley Station,  leaving her with serious cuts to her head and face from the fall.
The injured woman was then taken by ambulance to the Edinburgh Royal Infirmary where she was detained overnight.
CCTV shows the victim being tripped by a younger woman at the top of the escalators as she entered the station at Waverley Steps at 22.30 on Friday night.
Detective Constable Paul Farquhar, of the British Transport Police, said: "I understand that the young woman responsible laughed as she made off from the station entrance and a man, who is believed to have been in her company, apologised for her actions to the injured woman."