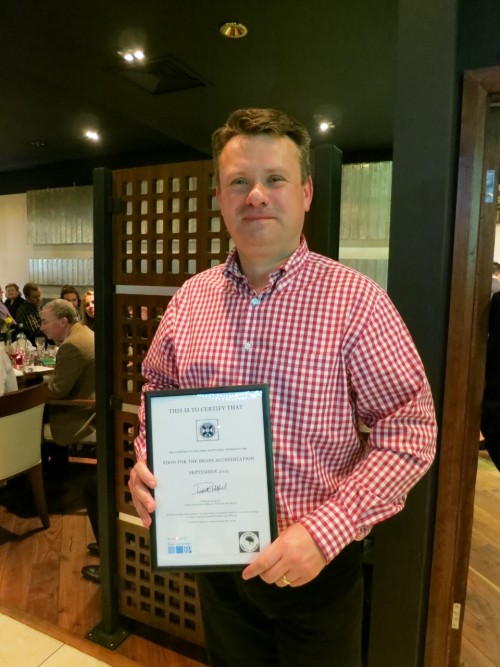 The University's catering service has been awarded a prestigious nutrition accreditation for the ninth year running for providing healthy food for its students.
The photo above shows Ian Macaulay, assistant director of catering at The University of Edinburgh Accommodation, Catering and Events with the Food and the Brain accreditation.
The award, which is run by the national charity, 'Food for the Brain', recognises the University of Edinburgh's Accommodation, Catering and Events as a leading provider of 'optimum nutrition' for students at their facilities.
The University of Edinburgh's Accommodation, Catering and Events is the only university catering provider in Scotland to hold the accreditation, having been awarded it first in 2006; the longest any service provider has consecutively held the award for in the UK.
Devised in junior schools, the 'Food for the Brain' scheme found that children who ate healthily during examinations performed at a higher level compared to those whose food intake was left unmonitored. Over the last ten years, the organisation has looked to apply this practice to higher education catering facilities, offering guidance on steering them towards achieving the accreditation status.
Since working towards a yearly Food for the Brain accreditation, catering staff at the university have completed various training on food allergens and nutrition as well as sourcing, where possible, fresh, local produce to use across their rotated menus.
The award supports the activity of a cookery school at the University, which encourages its students to ditch unhealthy convenience meals in favour of preparing fresh, healthy dishes themselves. Since its launch in 2014, the initiative has proved popular and has since become part of the Accommodation, Catering and Events ongoing food strategy plan.
Ian Macaulay, assistant director of catering at The University of Edinburgh Accommodation, Catering and Events, said: "The Food for the Brain acknowledges our extremely high standards and dedication to ensuring that we provide nutritionally balanced meals for all of the students who use our accommodation services.
"We cater to a large population of students and believe it is our responsibility to offer a range of delicious, yet nutritionally balanced meals, each day. We rotate a specially-designed five week cyclical menu in which students are asked to provide feedback on, to ensure that their specific tastes and requirements can also be met.
Our chefs can only do so much, however that is why we introduced student cooking lessons last year – the first University to do so – in order to provide them with a basic understanding of cookery while keeping costs low, so that they don't rely on processed foods outside of catered hours.
By continually challenging ourselves to improve, all while keeping costs down; we hope to retain our accreditation for 2016, making it our tenth year of working with Food for the Brain."
Nutritionist and Food for the Brain consultant, Fiona McDonald Joyce, praised the work of the University Accommodation, Catering and Events, stating that: "It's great to return to Edinburgh, our longest standing award holder, and see such continued enthusiasm and commitment to innovation.
The University strives to produce nutritious, balanced meals to students through both production of the menus and training of its catering staff. The team's efforts to support Food for the Brain principles are impressive, and we hope that this partnership can continue, providing students with the best possible chance at success during their studies."
For further information about the University of Edinburgh's Accommodation, Catering and Events, click here.
Break – out Box: Typical meal plan for students

Breakfast meal

Fresh orange juice and apple yoghurt compote with scrambled eggs on brown toast and coffee or tea.

Evening meal

Greek lemon chicken with tomatoes, olives and feta cheese, served with baby baked potatoes with sea salt and seasoned cauliflower with chilli.

Snacks

A range of snacks are always available to students including bircher muesli pots, gluten free cakes, muesli bars, noodle pots and fresh fruit.