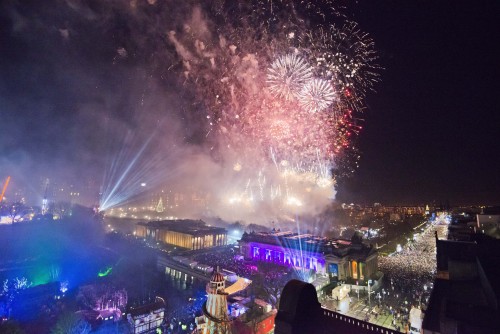 The message is to get your tickets as soon as possible, wrap up warm and enjoy a safe night along with your friends. While there will be medical tents dotted across the city centre the organisers are keen that you do not have to avail yourself of their services. They have been working hard to ensure that the arrangements for Hogmanay will enable everyone coming along to enjoy themselves safely from the time the Torchlight Procession gets underway on 30 December.
Festivals Champion Councillor Richard Lewis welcomed everyone to the Media Centre at Rainy Hall on the Mound this morning saying that he can remember Hogmanay in Edinburgh from when he was a schoolboy, but at that time it was a small celebration centred on the High Street and the Tron Kirk. "Since Unique Events took over in 1993 they have put a deal of polish on the event with all their organisational skills."
Pete Irvine of Unique Events disclosed to us that he has not ever been anywhere else to celebrate New Year since taking over the organisation, but that this does not bother him much as Edinburgh is the home of Hogmanay. He said : "We are ready to welcome to take our city to centre stage again. I would like to thank everyone who keeps this juggernaut on the road. There are many places to enjoy Hogmanay with lots of screens and stages. This year there is a new arena in Castle Street.   We are chuffed to bits that Biffy Clyro are starting what will be a great year for them here in Edinburgh.
"We are proud to partner with UNICEF this year and around midnight the sky will be turned blue along with our notable buildings such as  Jenners,  the RSA, Edinburgh Castle and Camera Obscura all lit up in blue to signify UNICEF's work around the world.
ACC Mark Williams is in charge of policing for the third year running. He said: "My messages are quite simple. People should wrap up warm. It is Scotland and it is December. So wrap up warm, have a plan for getting home again and look after your friends.
"Please don't overindulge. If you do you might end up in one of the medical tents. Please look after yourself and your friends. Do not bring glass as it will be disposed of at the security checks which will be in place."
ACC Williams continued: "Security is appropriate and policing arrangements have taken into account the heightened security across the world. There is no increased threat level at this time. The threat level is 'Severe' which is unchanged. I am confident that we have arrangements in place to allow everyone to enjoy the event safely."
Sam Bryce of G4S explained that around 600 G4S security staff all in high vis and all very approachable will be working across the city centre. "Come early as the gates may close at 11 if there are too many people."