Sam Smith sings "the writing's on the wall.." but at Purslane restaurant in St Stephen Street, Stockbridge, a stunning wall of reclaimed wood is currently taking centre stage.
Purslane, which was voted Scotland's Best Fine Dining Restaurant 2015 in the Scottish Entertainment & Hospitality Awards, has just celebrated its fourth anniversary by unveiling its new look, which consists of a new warm and inviting colour scheme of rich browns, creams and caramels, set off by the "talking point" feature wall of reclaimed wood, a mixture of old railway sleepers and other weathered timbers.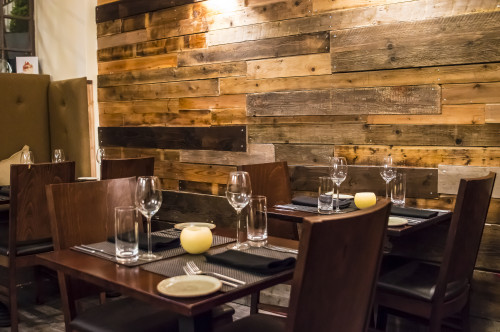 The wall opposite the feature wall is now bedecked with two pieces of original Billy Connolly artwork, "The Glaswegian Icarus" and "The Man on the Grass", chosen by chef /proprietor of Purslane, Paul Gunning himself, to provide additional conversation pieces.
Paul brought his wealth of experience to bear when setting up Purslane four years ago. He has worked at a number of five star hotels and Michelin starred restaurants such as Riverroom MPW with Marco Pierre-White, Number One, at the Balmoral under Jeff Bland, and Auberge Du Lac , under Phil Thompson.
He takes up the story on his quest for a new look for his restaurant which is now one of the Capital's finest fine dining establishments: "Four years down the line and I decided that the restaurant could do with a refresh, the old decor had become tired, " said Paul." It's a small and intimate space and we are known for offering fine dining by candlelight so I wanted to maintain Purslane's cosy and welcoming atmosphere but make a bit of a statement at the same time."
"As the fourth anniversary of the business first opening was approaching I thought what better way to celebrate and look to the future, than to invest back into the look of the restaurant."
Paul explained that, with the help of friends and family, he had raised some finance to spend on the refurbishment.
"When we first opened Purslane, the main emphasis was to make sure the kitchen was professionally equipped to produce the type of food I wanted to offer my clients. The interior design was secondary at that time, although I am still pleased with the look we created. Now that I have built up a successful customer base, I am able to turn my attention to a more indulgent design."
Paul enlisted the help of recent interior design graduate Rebecca McClement who completed her degree at Heriot-Watt University, and together they came up with new look for Purslane. "It was very much a collaboration between us," said Paul. "Rebecca brought some great ideas to the table as well as bags of enthusiasm. The old look was far too fussy, we wanted something much cleaner. This design with the feature wall makes use of wood that we already had in the restaurant, so its eco friendly too."
"Splintr, the local firm of joiners we selected to work on the project, were brilliant to deal with. They installed a new bar and cellar doors too. We all pulled together as I wanted the restaurant back open and trading within three days. We had customers booked in for the Saturday lunchtime so it all had to be finished on time," said Paul. "I have already had very positive feedback on the new look."
Said Rebecca: "As a recent graduate, this is just the type of project I was keen to get involved with. I have really enjoyed working with Paul and it will be a springboard onto other things for me. I hope that I have helped Purslane stand out in the competitive world of fine dining in Edinburgh, as the food is already top notch. I am pleased that after working so hard to build up the clientele over the past four years that Paul can now have the look and design he has always wanted in his restaurant."
As regards the new Billy Connolly pictures, Paul revealed that he had been a fan of the comedy legend's artwork for some time.
"These pictures are an investment for me, and I think they just finish off the look of restaurant, as well as getting conversation going between customers" said Paul. "They are the type of images that can mean different things to different people. "The Man on the Grass" for example has been called Connolly's version of the Vitruvian Man, the famous Da Vinci painting highlighted in the Da Vinci Code. They are certainly quirky and amusing – I really like that about them."
Purslane Restaurant is open Tuesday to Sunday, 12 noon til 2pm for lunch and from 6pm til 11.30pm for dinner. A variety of dining options are available for lunch and dinner with five and seven course taster menus on offer. Call 0131 226 3500 to book or check out the web at www.purslanerestaurant.co.uk.