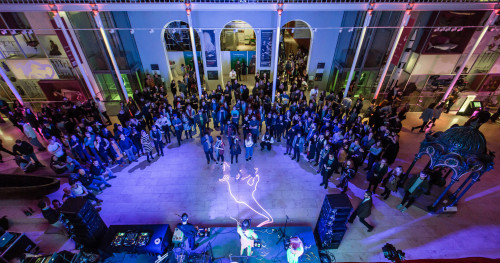 Well, the Museum Lates this time came with a Victorian twist, albeit elements of steampunk and selfies to drag it right up to the present day. With a lecture on tattoos, mindfulness, colouring in of Victorian street-scenes and music from both female-led Glasgow bands, Honeyblood and BDY_PRTS there was a tongue-in-cheek poke at the Victorian era with this event.
Ostentatious attire and grand accessories were worn by most for this frenzied event, leaving those who had made a margin of an effort to queue for three hours to dress up and pose in their own Victorian photograph on site. Otherwise, top-hat making workshops were on hand as was a Victorian sing-a-long to lure the residents of this fine city back into a deceptive age of refined sensibilities.
The exhibition, Photography: A Victorian Sensation, was open to certain ticket-buyers so there was enough to keep the audience entertained on top of all of the abnormal activity. Entertainment on offer included Dr Matt Lodder revealing the secret history of tattoos, magician Luke Eaton, and tastings from Edinburgh Gin at a stand, in Hawthornden Court, which of course was much in demand.
The Red Door Gallery provided Victorian-themed crafting opportunities, whilst actors adorned the building, giving the late-night vagabonds of Edinburgh's culture scene the rare opportunity to simply explore the galleries of the National Museum of Scotland by night.
Despite being as far from the Victorian age as the night could be, the most intriguing and entertaining element of the evening came with an introduction from Radio Scotland's Vic Galloway.
BDY_PRTS, comprising of Jill O'Sullivan (of Sparrow and the Workshop), Jenny Reeve (known mostly for her work with Admiral Fallow) and Jonny Scott, is a neon, electro-pop, choreographed affair.
They held the attention of the crowd, if not just primarily for their outrageously shocking pink and yellow skin-tight leotards. Singing tracks such as Cold Shoulder, Warrior and Breathe, incorporating coordinated dance into their routine, a trademark of these Glasgow ladies, we were by then very far removed from any notions of a Victorian sensation, but that was not to its discredit.
The Victorian theme complemented the Museum's exhibition, Photography: A Victorian Sensation, which closed on 22 November 2015.