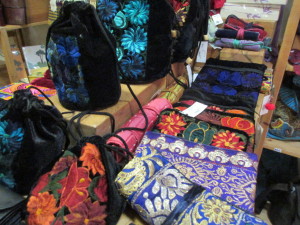 If you're still looking for the One World Shop underneath St John's Church, look no more – it's moved!
This wonderful source of all things Fairly Traded has found a new home at the City of Edinburgh Methodist Church in Nicolson Square, and its lovely new premises are packed full of great gift ideas for Christmas. The shop's aim is to reduce poverty in poor areas of the world through trading fairly. It sells foods and gifts which are produced by farmers and craft workers who:
Receive a fair price for their work
Have access to good working conditions
Often benefit from a social premium for their community
Are not exploited by their employers
From unique tree decorations to bags, scarves, ceramics and jewellery, there's something for everyone on your list here. Fair Trade may have once meant baggy jumpers and worthy books, but these days it's more designer satchels, Divine chocolates and chic childrenswear.
Laptop/messenger bags made from recycled rice sacks, fabulous leather holdalls and briefcases, luscious velvet evening purses and pretty handbags would all make great presents.
For children there are wooden trains and buses, hand puppets, gorgeously soft babygrows and even Fair Trade footballs. Stocking fillers include earrings, brooches, toys and extremely smart socks.
The shop's food department has always been outstanding, and at Christmas it gets even better, with lots of high quality chocolates (how about some 'Meaningful Chocolate Angels'?), biscuits, preserves, Christmas cakes, Swazi Kitchen curry and chilli sauces, Ukuva-i-Africa spice sets and a spectacular choice of coffees (Grumpy Mule, Equal Exchange, Percol, Cafe Direct and Clipper) and teas (Traidcraft, Cafe Direct, Clipper, Equal Exchange and Hampstead Tea Company).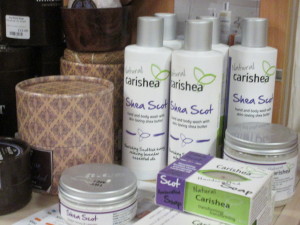 Do you know someone who loves special soaps and body balms? Carishea works with Ghanaian women who harvest shea nuts to produce butter, which is then handcrafted into luxurious products by workers from disadvantaged communities in Scotland. The company pays fair wages and returns profits into valuable education and community development programmes. And you smell lovely.
Still looking for Christmas cards? The One World Shop has a wonderful selection, including these beautiful ones from Amnesty International – plus lots of calendars, wrapping paper and diaries.
So instead of battling through another chain store, take a walk to Nicolson Square – City of Edinburgh Methodist Church is in the corner, and the One World Shop is just downstairs. It's peaceful and welcoming – and if you time it right, you can also pop into The Well, a cafe run jointly by the church and YMCA Edinburgh, for a bit of much needed sustenance. Altogether a much better way to spend your morning – and your money!
The One World Shop is at 25 Nicolson Square (map here). It's open 10am-5.30pm Monday to Saturday, 11am-5.30pm on Sundays.
The Well Cafe is upstairs in the church. It's open 9am-3pm every day and serves breakfasts, coffees, cakes, main meals, soups, baked potatoes and lots more. It also offers free wi-fi.