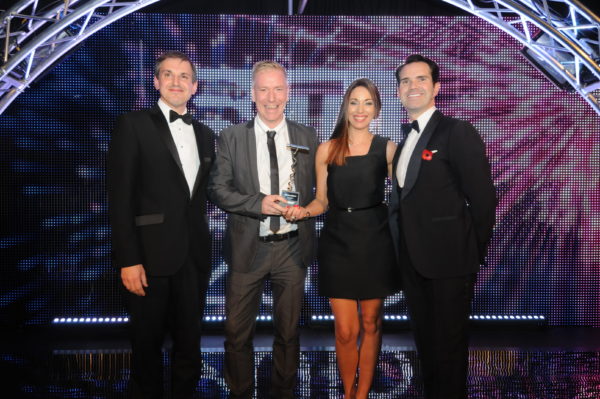 We were invited to Wedgwood for a set lunch one time and are sad to say we have not dined there apart from that, but the food and service were certainly excellent on our visit. Others have eaten there more regularly and it is the customers who voted for the restaurant in one of the three awards they have picked up in the last fortnight.
Wedgwood the Restaurant, on Edinburgh's Royal Mile, has scooped its third accolade in less than two weeks. Owners Paul and Lisa Wedgwood are delighted to have received the SLTN Wine Award and be listed in the Sunday Times Top 100 Restaurants for their "faultless cuisine and service", as voted for by diners. The hat trick was awarded last night when they won the Thistle Awards Hospitality Hero 2015.
Looking back at the overwhelming couple of weeks, Paul said, "I can't quite believe what's happening at the moment, but what I do know is that it's all due the hard work and dedication that all our team at Wedgwood puts in on a daily basis and all the awards and accolades are for them." Lisa, too, was delighted saying, "What a wonderful week it's been for us! We are so proud to have been given these awards and accolades and will continue to work and ensure our guests experience at the restaurant is second to none."
Wedgwood the Restaurant stock over a hundred wines from all over the world, with every price and taste accounted for. They hand-pick each wine carefully and work very closely with their suppliers, many of whom are local. Lisa, Paul's wife and co-owner of the restaurant, believes this has been the key to their SLTN win.
Wedgwood celebrated their appearance in The Sunday Times Top 100 Restaurants list, along with three other Edinburgh-based restaurants. To make it onto the prestigious list, it is the diners' choice and their verdict, which, for Wedgwood, was down to the "faultless cuisine and service". The Sunday Times Top 100 restaurants combine the opinions of thousands of diners to produce a definitive list; it is not decided by judges or critics. The views of all of their guests are extremely important to Wedgwood, but they are truly humbled by this praise.
Wednesday night's Scottish Thistle Awards – recognised as Scotland's tourism industry's Oscars – saw Wedgwood the Restaurant in two regional shortlists: Best Restaurant Experience and Hospitality Hero. The restaurant scooped the Hospitality Hero award for the region, where they were up against Sergio Coppola of Highland Experience Tours and Helen Fraser of Afternoon Tea Tours. Wedgwood the Restaurant, along with other regional winners from different categories, will now progress to the Thistle Awards National Finals which take place on 18th March 2016.
Wedgwood the Restaurant was opened in 2007 by Paul and Lisa. They set out to create their 'perfect night out' in friendly, unpretentious surroundings; diners are welcome to stay for as long as they wish and make the most out of the experience. Wedgwood the Restaurant firmly believes that dining is a time to be enjoyed and a time to relax. These awards are reflective of the dedicated and committed team, and round off a very successful year for Wedgwood the Restaurant.