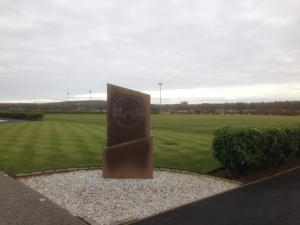 There was more good news for Hibs' fans today with the announcement that the youth recruitment structure has undergone a redevelopment and has been given a boost as an additional 30 members have been recruited – bringing the total staff number up to 40.
Following a drive for new staff, 30 people have joined as youth player ID scouts, recruitment administrators and lead scouts who will oversee key parts of the process and who will help to drive the flow of information on talented young footballers to the footballing staff at East Mains.
Graeme Mathie, Head of Player Identification and Recruitment, was pleased to see the number of people who put their names forward for the roles, and was delighted to see the numbers involved swell in the past few months.
He said: "Hibernian has had a long tradition of producing young footballers and that is something we all want to see continue. To assist this, we wanted to expand the youth recruitment structure a recruitment drive was launched and it was pleasing that so many people wanted to be involved.
"It shows that people care about youth development in Scotland, and that, as a football club, people are willing to help us reach our goals. I can't stress the importance of all involved in the process, they are a massive help and are doing a good job.
"We now have units of people working together to oversee the identification and recruitment process at specific age levels in the Edinburgh area, and teams of people in other geographic areas highlighting players of note. The scouts are tasked with providing graded written reports to local administrators who highlight players of particular interest to be monitored or invited to train with the Academy.
"We don't invite huge numbers of players to the Academy – ultimately we want to recruit a small number of very talented young players who have a genuine opportunity to progress through the development process and potentially play in the First Team."
Mathie's drive also saw the re-recruitment of Mike Meechan from Dundee United and Charlie Kivlin has also joined the pool from Celtic.
This is something he is thrilled by and is excited at the work these two are going to undertake on Hibernian's behalf given their prior experience, as well as the hard work everyone else has already contributed.
Mathie said: "Mike Meechan re-joined the Club last year from Dundee United. He watches and reports on around 300 games per year at youth, development and first team level – which is incredible for someone who doesn't drive a car!  He is also well known in the Edinburgh area and brings with him positive relationships with youth club coaches which fits well with the ethos we are looking to promote within our structure.
"Charlie Kivlin has also recently joined from Celtic and he will lead the recruitment function at the upper Academy ages, leading into the Development Squad which is a new position at the Club and is key to ensure we identify and recruit the best possible players to join the Club in a full-time capacity.
"All new staff have already shown a real willingness to get out in all weathers, watch youth games and gain contacts in their local areas – and there shouldn't be many youth games taking place in the Edinburgh area on a weekly basis without a Hibs scout in attendance."
Mathie and the team he has assembled are looking to build strong relationships with local clubs and coaches to ensure that a proper pathway into the Hibernian Academy is established.
The group have already seen a modicum of success with a partnership with Kennoway Soccer 7s in its nascent stage.
Mathie said: "We have already seen some tangible success in this regard. We have opened this way of working further afield and have engaged strongly with Kennoway Soccer 7s in Fife to assist our scouting unit there to identify young players with potential.
He cites the quality of the staff involved as key to improving, including Amit Moudgil – a supporter representative on the Hibernian Board of Directors.
"The number of people now out and watching games on a weekly basis is very pleasing, and the strength of our structure will be in the quality of people involved across the board.
"Amit combines his role as fans rep on the board with a recruitment administrator role within the structure, and he becomes the key communication link between the Club, and local youth clubs when we write training requests or signing requests."
Despite the improvements and redevelopment that have taken place, Mathie is still looking towards the future and further enhancements that can be made to the structure.
"It's a simple process that we have implemented but there's already been a significant increase in the numbers and the quality of players being recommended for Eddie May and the coaching team to assess.
"It's an ongoing process and there is still a lot of work to be done to refine the structure and make continued improvements but the Club has a motivated team of people, performing different roles within the overall function, and all working hard to uncover a potential first team player of the future."