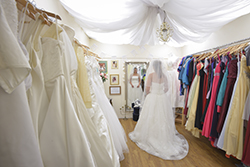 Brides on a budget can still look beautiful on their big day thanks to some help from Capability Scotland.
The disability charity has launched a bridal department in its Stockbridge shop in Edinburgh stocking a fantastic range of pre-loved and new dresses available at a fraction of the cost of an average wedding dress.
Now the department is taking the dresses on the road and is looking forward to meeting brides-to-be and their friends and family at The Edinburgh Wedding Fair at the Corn Exchange on 7th and 8th of November.
Capability Scotland launched its wedding department this summer and since then has enjoyed steady trade from brides who want to look stunning on their big day without breaking the bank.
Every bride who buys a dress and/or accessories from Capability Scotland has the added bonus of knowing they are supporting disabled people across Scotland at the same time.
As well as stocking wedding dresses the shop also has a range of accessories including shoes, bridesmaid dresses, outfits for the 'Mother of the Bride' and other occasion wear. The department has been well supported by businesses across the country receiving donations from a number of wedding dress shops including Apple Blossom Time Bridalwear in Perth and Xquisite Brides in Falkirk.
Capability Scotland Head of Retail, Sophie Wilbraham, explained more:
"We want to help brides on a budget find their perfect dress without compromising on quality or style. Many of our dresses have been donated from bridal shops and can be snapped up at a very reasonable price. We have a beautiful range of dresses just waiting for their chance to shine.
"And of course every dress sold makes a difference to someone's life by helping to support the vital services we provide disabled children and adults across Scotland. These include independent living support, residential care, education, employment advice and much more. "
Capability Stockbridge Shop Manager, Patsy Parker, added: "We are really looking forward to being part of the Edinburgh Wedding Fair at the Corn Exchange and showing off our dresses.
Anyone who can't come along to see us there is welcome to come and visit us at Stockbridge shop. We have a dedicated bridal department and fitting room and have tried to recreate the lovely experience all brides want to have when searching for that perfect dress."
Capability Scotland will be at stand 66 at the Edinburgh Wedding Fair at the Corn Exchange on 7th & 8th November.